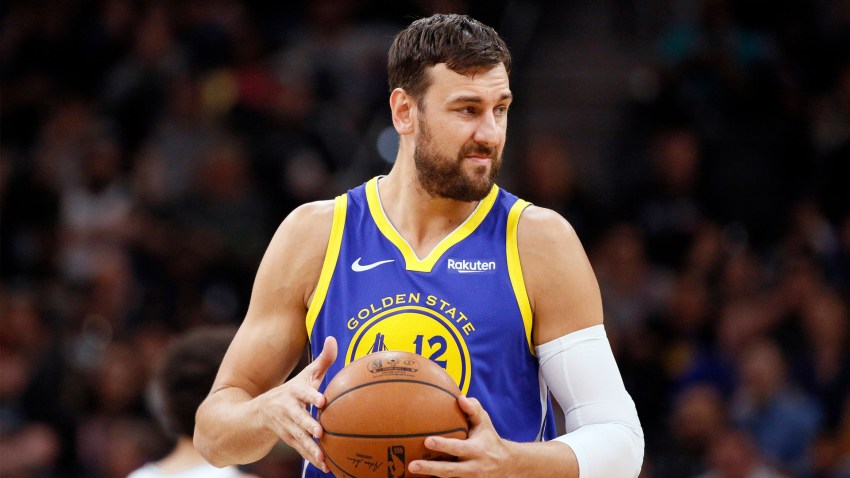 LOS ANGELES – It was a given that upon returning to the NBA last month, Andrew Bogut would be older and wiser. It was quickly evident that he was in very good condition. And soon, something else became apparent to the Warriors that was totally unpredictable.
Bogut is much the same player as when he spent four years with the Warriors, from 2012 to 2016, but he is not the same man.
Bogut has spent the last year or so decluttering himself of extraneous mental and emotional baggage, stripping away some of the personal strife that agitated stress levels and occasionally made him cranky.
The result is a man unbothered, something Bogut insists makes him a better basketball player.
"It's huge," he said. "You see a lot of guys in our league that you know they stuff off the court. Some guys get help, some guys don't. I knew I was going through a tough time in years 11 and 12 and 13. And then the pressure of starting a new family as well was playing on me. Just a bunch of different things that had happened to me in my life, off the court as well."
It's one thing for Bogut to acknowledge his previous outlook, but quite another for him to at least vaguely explain his new attitude. His teammates and coaches can see it and feel it, and it is as welcome and refreshing as a cool breeze on a hot day – especially with him becoming essential in the wake of a potential postseason-ending injury sustained by DeMarcus Cousins in Game 2 of their first-round NBA playoff series against the Clippers.
Asked about Bogut's effective work against Los Angeles on Thursday in Game 3 – his first postseason start since 2016 – Draymond Green practically led the cheers for his teammate.
"Hell yeah," he said, grinning, before the question could be completed. "I don't know what you're about to ask, but he looks amazing.
"Bogut has been incredible for us."
Bogut totaled eight points, 14 rebounds, five assists, one block and one steal while playing 25 minutes. He was a plus-24.
On one end, his clever screens created a barrier between the Los Angeles defense and Warriors shooters, particularly Kevin Durant. On the other end, he provided the communication and presence required to muffle a dangerous offense.
"He covers up mistakes, allows us to gamble," Green says.
"He sees everything and he barks it out," coach Steve Kerr said. "Coaches always tell players that on defense, you've got to yell it out. But nobody wants to yell it out. You feel self-conscious. Bogut doesn't care. He just yells. If you watch a game and you're near the court, you can hear him constantly."
The March 6 signing of Bogut at the veteran's minimum salary, prorated at about $490,000, was seen as a luxury but now feels like a stroke of genius. The initial agreement, that he'd backup Cousins and play maybe 12 minutes per game, and sometimes not at all, has been altered by need.
Bogut can now expect to play between 24 and 28 minutes against most opponents. He suddenly is indispensable.
"Huge IQ, understands the game, understands the chess board," Kerr says. "He knows where the other nine guys are on the floor at all times. He's been amazing for us. We got really lucky. With DeMarcus down, to have Bogut in here has been a saving grace for us."
To have Bogut join the team in this state of mind is invigorating for him and his teammates. In addition, it is delightful – which often was not the case during his first stint with the Warriors.
"I just think he's really enjoying his life right now," assistant coach Ron Adams says. "I'm not saying he didn't before, but it's a different kind of perspective on life.
"Coming back to this team has brought him great joy. It's different circumstances than before, but he's having fun with it. He's always been a good leader, but his leadership now is really profound. His influence on this team is profound, especially for a guy coming in that hadn't been with us for quite a while."
[RELATED: Why Dubs aren't worried about letdown in Game 4]
Bogut 2.0 is something the Warriors could not have guessed. He's still sarcastic (most of the time benignly) but the brooding of the past has been replaced by a brighter disposition.
"Leaving this situation and coming back to it, I'm very thankful to have another opportunity to play with some of the greatest players in the world," Bogut says. "I'm probably more appreciative of it this time around. When you're stuck in the moment, with the pressure and the first time around, I don't think I enjoyed or was as appreciative as I should have been."
Copyright CSNBY - CSN BAY