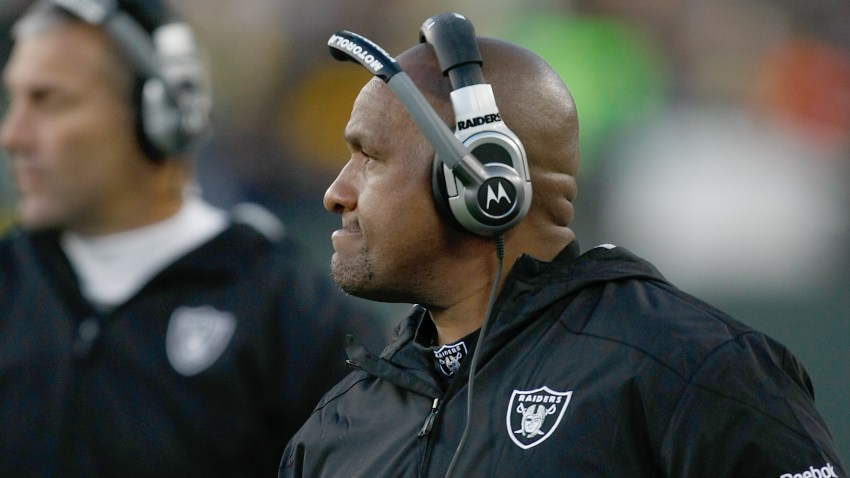 The Raiders are out of the playoffs, and Hue Jackson is out of patience.
The man who wanted to "build a bully" in the AFC West and gambled a gaggle of draft picks at midseason to acquire quarterback Carson Palmer, was furious after Sunday's 38-26 loss to the Chargers Sunday at O.co Coliseum that killed their playoff hopes.
Jackson torched his players' efforts and vowed change.
Sunday's defeat signals the start of what likely will be a busy – and possibly bloody – offseason.
First to go may be defensive coordinator Chuck Bresnahan, whose unit was consistently awful. The Raiders were a sieve against the run and allowed a franchise-worst 31 TD passes this season. Overall, opponents scored 53 TDs vs. the Raiders.
"I think Chuck knows how I feel," Jackson told the San Francisco Chronicle's Vittorio Tafur. "I'm disappointed."
Added Jackson: "I'm not making (any) more excuses for (anybody). I've taken this thing on all year, and look, bottom line is we don't tackle very well in the secondary. We don't make the plays that you have to make in the secondary to be very successful. We're not where we need to be yet. It's my job, and I'm going to get it fixed."
Jackson just didn't target the defense, however. His rants were aimed at anyone wearing silver and black. After a 7-4 start and what looked like a certain playoff season, Oakland lost four of its final five – including Sunday's collapse – to finish 8-8.
"I'm pissed at my team," he told reporters. "At some point in time as a group of men you go in the game and you can say whatever you want about the coaches, you win the game. Here's your time. Here's your time to make some plays. We didn't get them stopped and we didn't make enough plays. Yeah, I'm pissed at the team. Like I tell them, I always put it on me, but I am pissed at my team because when you have those kind of opportunities, you've got to do it and we didn't do it."
Jackson told reporters he will take a stronger role "in this whole team," will engineer an "attitude adjustment" and will fix the Raiders' penchant for penalties (though he said he would fix it this season, too). The Raiders set NFL single-season records for number of penalties and penalty yardage.
"I ain't feeling like this no more," he told the media. "This is a joke."
When he was asked if Bresnahan would be back next season, Jackson said, "I'm not going to answer that right now."
In the world of NFL coachspeak, that's akin to a pink slip.
Consider the Bresnahan firing the first of many offseason moves.
"There's going to be a lot of adjustments that we have to make," said Jackson.