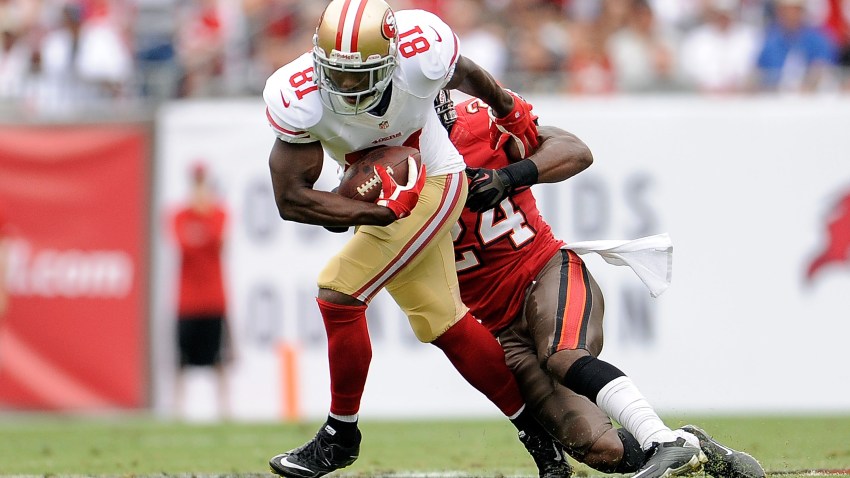 At age 33, Anquan Boldin is no young, pass-catching phenom in the NFL. He's been around 11 seasons and has 857 regular-season catches.
But when the 49ers re-signed their wide receiver to a two-year deal this week, they invested in a player they believe can pay big dividends in multiple areas.
No. 1, of course, is as a receiver. Because his game has never been about outrunning defensive back, but outfighting them, Boldin's loss of a half-step or so over his career isn't that concerning.
After all, last season Boldin led the Niners with 85 catches for 1,179 yards and had seven TD catches. His yardage total was the highest it's been since 2006 with the Arizona Cardinals. And, Boldin put up those numbers even while he was the only obvious go-to receiver in the lineup, with Michael Crabtree out with an injury for most of the season.
But aside from his pass-catching skills, the Niners are investing in Boldin's intangibles: his drive, his leadership, his work ethic and the knowledge he can bring to his younger teammates.
The 49ers had acknowledged that re-signing Boldin was their No. 1 offseason priority. So, that's one mission accomplished.
"He is a consummate professional whose love and respect for the game provide a tremendous example for all players," 49ers GM Trent Baalke said in a statement, upon announcing Boldin's re-signing. "Anquan has been a very productive player throughout his career, and we look forward to his future contributions to our team and community."
The reported two-year deal for Boldin will net him a guaranteed $9 million, with a ceiling of $12 million.
What the 49ers also get for their money is a veteran receiver who can get up for big games and challenges, while also being an example and mentor for younger receivers on the roster, such as Qiuinton Patton, last year's rookie who started to come on late in the season after finally getting healthy. And, with the 49ers in the market for a wideout in the draft, who better than Boldin to show a newcomer the tricks of the trade in the NFL? He can show young pass catchers how to separate from cornerbacks, read coverages and battle for the football.
Patton, in fact, credited Boldin with teaching him a lot in his first pro year. And he said Boldin played a role in the final regular-season game of 2013, when Patton made a big catch at the end of the game in Arizona to set up a game-winning field goal. Patton had failed to make a catch on the previous drive, and Boldin gave him a pep talk soon after.
"I told him, 'Keep your head up,' " Boldin told the media. "We came back to him and he made a big play."
Head coach Jim Harbaugh had been very clear that he wanted Boldin back for everything he brings to the team.
"Really, Anquan has done everything he can possibly do with the way he's played and the kind of teammate he was last year," Harbaugh said before Boldin re-signed. "We're all in lockstep with how we feel about him."