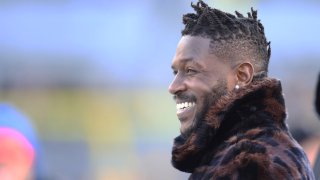 At some point during the Patriots' 28-22 Week 13 loss to the Texans on Sunday night, almost everyone probably wondered where all of Tom Brady's weapons had gone.
An offense that at one point or another has had the likes of Rob Gronkowski, Josh Gordon and Antonio Brown, now relies on a banged-up Julian Edelman, James White and rookies N'Keal Harry and Jakobi Meyers.
Those people weren't alone because Brown thought the same thing.
As Brady was getting more and more frustrated down in the Lone Star State, the four-time All-Pro fired off a serious off strange tweets, one of which was a video montage of Brown's highlights from his one-game Patriots tenure. The video ended with highlights from the retired Gronkowski's tenure in Foxboro, Mass.
🎄 pic.twitter.com/BbWzFM8P5e— AB (@AB84) December 2, 2019
Rumors swirled Sunday morning that Patriots players and coaches would welcome Brown back to New England if owner Robert Kraft OK'd the move. As the Patriots struggled to move the chains, it didn't seem far-fetched that Brown could be a Patriot again sometime soon.
Then, Brown took to Instagram on Monday morning and reposted a rant from Patriots fan account "Gillette Nation" that bashed Kraft for not wanting to win, and that probably ends his hopes of returning to Foxboro.
Warning: The post does contain some NSFW language.
Antonio Brown just posted this on his Instagram story. Guess that ends that "Antonio Brown coming back to the Patriots" discussion. pic.twitter.com/uPNqWLDGQJ— Toucher and Rich (@Toucherandrich) December 2, 2019
Brown has since deleted the post, but no doubt the damage is done.
The six-time Pro Bowl selection has been out of the NFL since the Patriots cut him prior to Week 3. The NFL still is investigating claims of sexual assault levied against Brown by his former trainer in a federal civil lawsuit, so it's unlikely Brown returns to the NFL until that is complete.
It wasn't long ago, Brown was expected to be the offensive piece that would take Jon Gruden's offense to the next level in Oakland. The summer was filled with excitement at the number of offensive weapons the Raiders possessed, with many dreaming of quarterback Derek Carr and Brown lighting up the scoreboard in the Raiders' final season in the Coliseum.
Brown, of course, had an offseason filled with so much drama even the execs over at the CW wouldn't buy it for a weekly teen drama.
A pair of frostbitten feet, two helmet grievances, one altercation with general manager Mike Mayock and a guerilla marketing Instagram video that illegally taped a phone call with Gruden later, and Brown was cut and on his way to New England where he lasted one week.
[RELATED: AB's swift release shows true nature of Patriot Way]
While Brown might view himself as the ideal Christmas present for a contending team, the Raiders surely would beg to differ.
Copyright C