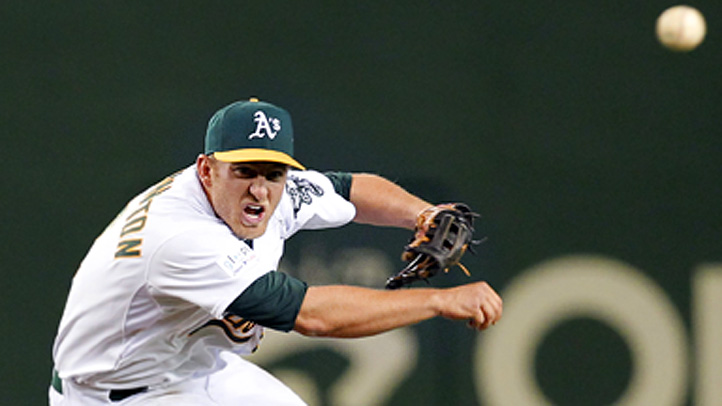 On Tuesday we predicted that Felix Hernandez would get his ace on and dominate the A's in the first game of the season. He did, in fact, do that. The good news is that Brandon McCarthy hung with him.
The bad news is that Oakland still lost, 3-1 in 11 innings.
Hernandez was dominant, giving up just five hits and one earned run while striking out six over eight innings. McCarthy was darn good too, giving up just six hits and one earned run while striking out three over seven innings. The difference for Seattle was the bullpen -- the Mariners relievers coughed up one hit in three innings.
The A's bullpen ceded three hits and two earned runs in four innings.
It'll be interesting to see if Eric Wedge keeps batting Ichiro Suzuki third; while you could argue that the legendary Japanese star going four for five validates the "what the hell, let's bat Ichiro third" experiment, the Mariners might not have needed extra innings to win the game if they'd had someone on base in front of Dustin Ackley, who went two for five with a solo home run and a single to right that scored Brenden Ryan.
Whatever, Wedge is more than welcome to keep rolling with Chone Figgins at leadoff. That should work out well for him.
It's easy to criticize the A's for a lack of hitting. But they have two good excuses. One, Felix is a great pitcher and it's tough to hit against him (and he's looking very svelte these days; could he be headed for his best season yet?). And two, the A's don't have very many good hitters. That much was made clear on Wednesday morning.
That's the nature of life when your lineup is so weak that you have to bat your catcher fifth. All due respect to Kurt Suzuki and all. Yoenis Cespedes and Jemile Weeks both had a hit, and Weeks also swiped a bag, which is a bonus.
If Weeks can set the plate and get on second more times than not, then the A's will have a much better chance of producing runs at the top of the lineup.
A better test of that will come against Jason Vargas on Thursday morning. Which is to say, yeah, the A's get a bit of a pass against Felix.