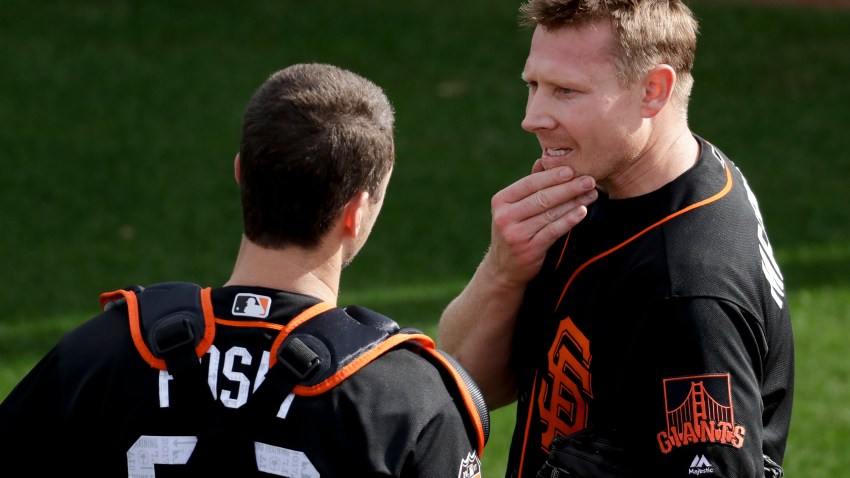 SCOTTSDALE - There was a consistent theme over the weekend as players and coaches gathered for media day and FanFest at AT&T Park. Some players even said it out loud: "I can't believe Evan Longoria and Andrew McCutchen are here."
During the quietest MLB offseason in years, Brian Sabean and Bobby Evans managed to add two former franchise players to a roster that desperately needed fresh blood and power bats. But as the two executives met with reporters, another theme hung in the air.
"So, uhh, what about the bullpen, guys?"
Both men acknowledged that they have concerns, which were backed by the Friday morning addition of Derek Holland - a lefty who could end up in the 'pen or rotation - and the reported chase of righty Seung-hwan Oh, a righty who signed with the Rangers.
"We have of course been the beneficiaries of strong bullpens," Evans said. "We understand the value. It's not lost on us the challenges we've had."
"Challenges" is the kind way of putting it.
A year after the bullpen imploded in the second half and swept the Giants right out of the NLDS, the group posted a 4.34 ERA and once again piled up the blown saves. Mark Melancon, the big-money closer, struggled before season-ending surgery, and the rest of the group never found much consistency. At the end of the season, Sabean listed the bullpen as one of his three big areas of need. The plans changed a bit when free agency started and relievers began to fly off the board.
"We did focus on the lineup and obviously the market relative to the bullpen was pretty strong pretty early," Evans said. "A lot of clubs invested heavily in their bullpens and that made it more of a challenge to add."
The Giants are still in the market for relievers, and this unique offseason could mean that a veteran or two is willing to arrive later in camp and fight for a job. But for the most part the front office is counting on returning players to find health and bounce back. They don't really have many other options at this point.
Melancon was cautious Friday when talking about his recovery from a procedure to relieve compression in his forearm, but there has been no indication that he won't be ready for opening day. Smith's recovery is going well, team officials say, but there are no guarantees after Tommy John surgery, and the Giants won't be able to run the lefty out there that often in April even if he is cleared for opening day duty.
Evans noted that Melancon, Sam Dyson, Smith and Hunter Strickland should be able to take care of "the latter stages of the game," and Cory Gearrin will once again have a big role after a sneaky season that ended with a 1.99 ERA.
After that there are question marks, but also lots of potential. Take Derek Law, for instance. At this time last year he looked like Melancon's setup man. Now the Giants simply need him to become a reliable sixth-inning option.
"He's a guy that has everything that we need," Melancon said. "He's going to come back really strong this year."
The staff is hopeful that Law locks up that job in Scottsdale. Team officials are also holding the door wide open for another young right-hander, Rule 5 pick Julian Fernandez. The 22-year-old has never pitched above A-ball, but he has a 100 mph fastball and Evans has repeatedly mentioned Fernandez as someone he would like to see when camp breaks. The Giants will need him to make the club in order to keep his rights.
The situation on the left side is more complicated. Josh Osich had a 6.23 ERA last season and Steven Okert finished at 5.67, and with Sabean hopeful that the team opens the season with just 12 pitchers, the lefties have an uphill climb to opening day. The off days in April could allow for Ty Blach to settle into a swing role early on, but don't expect other young pitchers to get that chance. Evans does not want prospects Tyler Beede and Andrew Suarez to debut as relievers.
"We see them as qualified to break into the rotation at the right time," he said.
Copyright CSNBY - CSN BAY