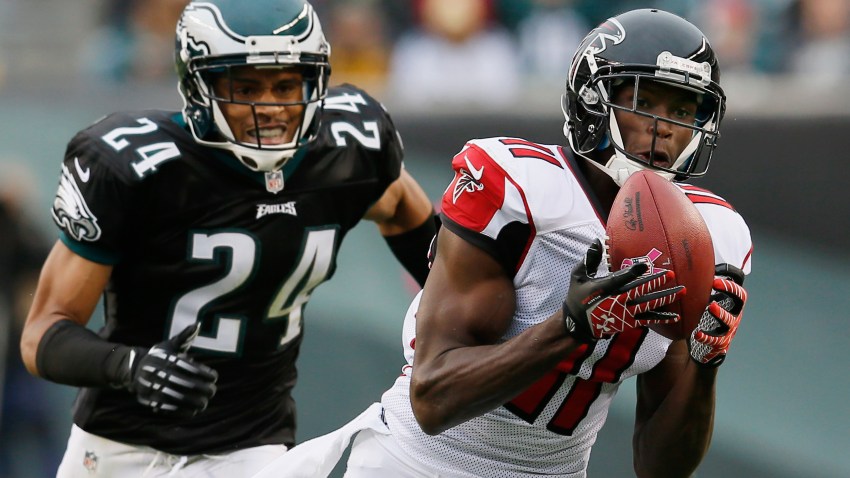 Nnamdi Asomugha is having to play his way onto the 49ers roster.
Though the veteran had some All-Pro seasons across the bay with the Raiders, he was signed by the Niners after two disappointing seasons in Philadelphia. Then, early in training camp, he received less-than-stellar reviews of his performance.
"We really didn't know what we were getting when we got Nnamdi," defensive coordinator Vic Fangio told reporters earlier this month. "He's had some good days out here and some days when we weren't sure if he'd be able to still have it.
"I think we're kind of in between on him right now. Hopefully, he'll still be able to have some gas left in his tank to go out there and play like he did prior to going to Philadelphia. So I think the jury is still out there."
But on Friday night in the 49ers' second exhibition game, a victory over the Chiefs in Kansas City, some of the jurors reported in. Their assessment? Asomugha had a solid game.
Kevin Lynch of the San Francisco Chronicle reported that Chiefs quarterback Alex Smith appeared he wanted to test Asomugha, looking in his direction six times. But, wrote Lynch, Smith went elsewhere four times because of Asomugha's solid coverage, and the two times he did throw at him, the passes were overthrown, a result of the cornerback's step-for-step presence.
Playing most of the first half against the Chiefs, Asomugha was seen running stride-for-stride with fast young wide receiver Jon Baldwin on deep routes.
Asomugha also blitzed at one point, forcing Smith to throw an incomplete pass because of his pressure.
With last season's third cornerback, Chris Culliver, out for the season, the door is wide open for Asomugha to stick with the 49ers if he can continue to play well in preseason action. He'll get his next chance this Sunday night against the Vikings at Candlestick Park.
Asomugha's good size – 6-foot-2, 210 pounds – would give the 49ers a bigger cornerback to match up against taller receivers. But, he's going to have to continue to prove he can stay with opposing wideouts and not get lost as he did in his two seasons in Philadelphia.
Said Niners secondary coach Ed Donatell: "He gives you a guy that can match up with big receivers, which we have (a lot of) coming through the division. In press coverage, which has been his signature, he's hard to get around."
Added 49ers teammate Kyle Williams, a wideout who sometimes goes against Asomugha in practice: "He looks like the Nnamdi he's looked like his whole (pre-Eagles) career. I don't know what was going on in Philadelphia … but he's still got it. He's so long out there. He can disrupt you without doing that much."
Still, Asomugha is fighting a numbers game at cornerback. So far, starters Tarell Brown and Carlos Rogers haven't done anything to lose their jobs, and Tramine Brock appears the best bet to replace Culliver. Asomugha is battling veteran Perrish Cox and Michael Thomas and Marcus Cooper to make the roster.
As Fangio said, the jury is still out.