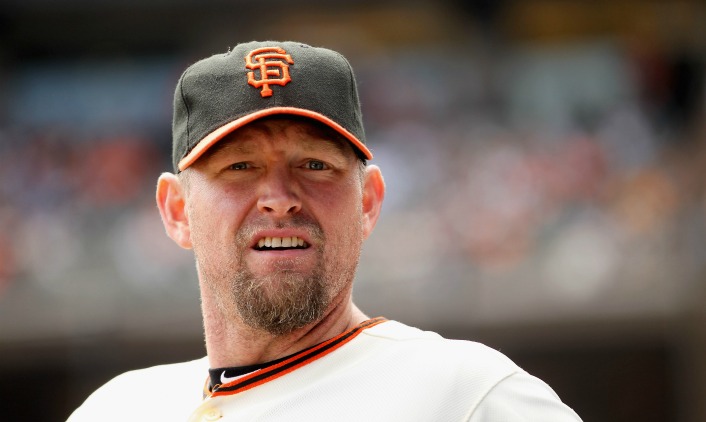 OK, this isn't breaking news or anything, but Aubrey Huff wasn't very good in 2011 for the Giants.
This comes, of course, on the heels of Giants GM Brian Sabean rewarding Huff with a two-year, $22 million deal.
But just how bad was Huff? Well, he was actually named the Least Valuable Player in the National League by the New York Times' Tyler Kepner. Ouch.
"The Giants got so much value from Huff in 2010, when he far outperformed a one-year, $3 million contract, it seemed natural that he would flop after re-signing for two years and $22 million," Kepner wrote in the Times. "Huff, a thong-wearing folk hero last fall, was easily the least productive first baseman in the majors this season, with a slugging percentage below .400 and an on-base percentage not much higher than .300.
"A lot of players were responsible for the Giants' major-league-worst offense, but considering how well he played last year, Huff stands out."
Kepner actually handed out these awards a couple weeks ago, so a big bloggy handpound to Giants Nirvana (formerly Splashing Pumpkins) for pointing it out.
But just how bad was Huff in 2011? Well, pretty terrible. Out of all National League players with more than 400 plate appearances, Huff ranks 84th in OPS for 2011.
Unfortunately, there are only 98 players who qualify, so he's actually 14th from the bottom, ranking above some real terrors like Aaron Miles, Ryan Theriot, Ian Desmond and Lyle Overbay.
That's pretty terrible. On the bright side, he was tied for 63rd (in that same group) in home runs with 12!
But perhaps the biggest indictment of Huff's terrible performance in 2011 is where he ranks in terms of all-time Giants first baseman (again as noted by Giants Nirvana).
Huff is actually the worst. All-time. The worst!
He posted the lowest OPS of any player to spend 50 percent of their time at first base in a single season in Giants history, and he also has the lowest batting average of all the available candidates.
The list -- which obviously spans the era of 1958-2011 -- isn't full of guys who stink. It's Willie McCovey, Orlando Cepeda and Will Clark for the most part.
But the 2010 version of Aubrey Huff is also on there, and that's exactly what the Giants paid for in 2011, unfortunately.
And that's exactly why Sabean and Bruce Bochy won't be patient with him in 2012.