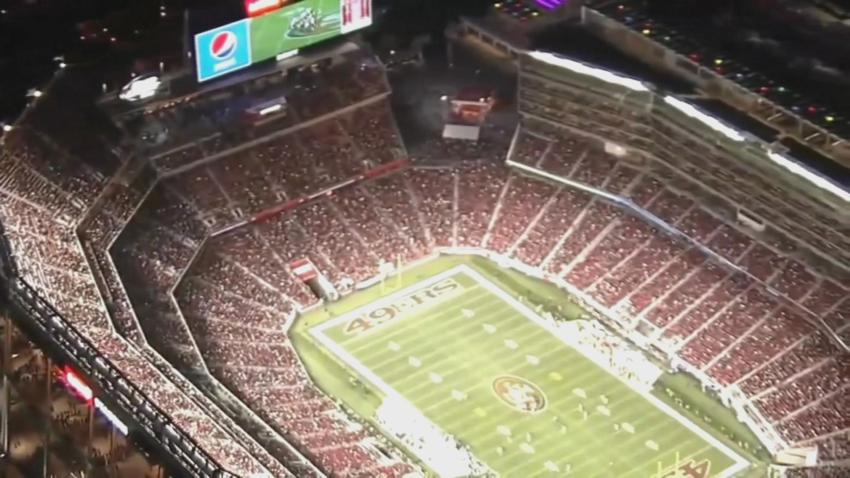 A new audit released Monday found that the San Francisco 49ers owe the city of Santa Clara nearly $2 million, but the team's president said the report "has already been proven to be riddled with errors."
Santa Clara Mayor Lisa Gillmor said starting Thursday she expects the stadium authority to put the organization on 30 days notice to fork over the money or face legal action.
The 178-page audit, which was commissioned by the South Bay city, found that the 49ers owe about $894,228 for public safety that was spent via a construction fund, roughly $718,803 for parking at the city-owned golf course across the street from the stadium and approximately $114,781 in unreimbursed costs for city staffers. Those expenses were found to be in violation of voter-approved Measure J, which prohibits taxpayer money from being used on stadium-related events.
49ers President Al Guido issued the following statement arguing that the city failed to bill them for the $115,000 charge and wasted $200,000 on the audit:
The Harvey M. Rose report issued today has already been proven to be riddled with errors. In fact, they were forced to admit major errors and make significant changes to the draft report they previously leaked in a failed attempt to embarrass the 49ers. In the end, they wasted over $200K in public funds to discover that the City of Santa Clara failed to bill $115K in expenses - something which was their responsibility.
This $115K in unreimbursed funds shows that the public must hold Mayor Gillmor accountable for her mismanagement of both city staff and city funds. The 49ers will continue to ask for any additional bills from the City and will continue to pay all bills that are due.
Mayor Gillmor chose to waste $200K of public funds with the intent of creating media headlines. That plan has backfired.
Santa Clara also wants the football franchise to release documents related to non-NFL stadium events, but the 49ers have refused. The organization argues that handing over that information would remove its negotiating power with those wishing to hold concerts or shows at the venue. City officials have argued that those documents can be kept confidential.
"Hopefully they'll cooperate and produce the documents," Gillmor said. "But if not, we're prepared to take legal action."
Gillmor on Tuesday added that the city must fix the way it is conducting business and managing the stadium. Those issues are expected to be addressed at a city council meeting set for Tuesday night.
"We're fixing things now," Gillmor said. "Santa Clara was ill-prepared to manage a stadium of this magnitude. We're changing things, and we're fixing it."