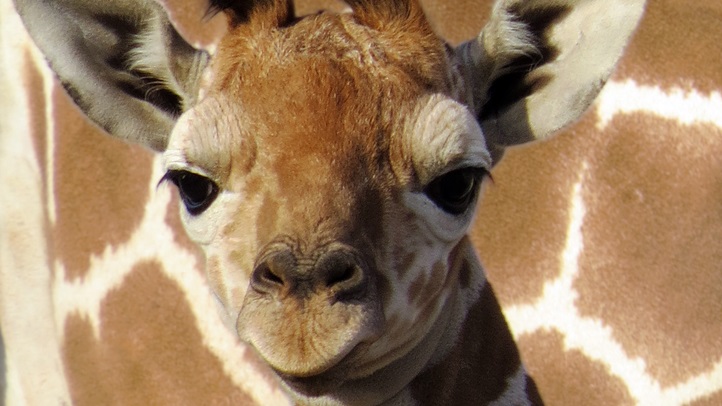 HOME COURT CUTENESS: The arrival of a giraffe at an animal park is always a pretty big deal, but then again every newborn, be they a hippo or gecko or giraffe, is celebrated. The question, of course, is how to choose a name, one that is auspicious and important and beautiful and memorable. You can hold a contest, if you're a zoo, to see if members or visitors come up with something snappy. You can turn to famous animals or people associated with the park, for inspiration. Or you can look to an awesome regional team, one known for making the wins, and you can find a marvelous moniker there.
SAFARI WEST... in Santa Rosa did just that when the "newest MVP" arrived on Nov. 28. The baby, described as "(g)angly, energetic, and decidedly uptempo" topped out at six feet and a notable 122 pounds. Giraffes and tallness go hand-in-hand, and the preserve people say that they kept an eye on him, as he began to discover play, and as he romped his new name became clear. "As we watched him playing with the rest of the tower (giraffe herd), chasing the cranes and just having fun like giraffes do, it became obvious that he should be dubbed Dubs -- in honor of the... Dubnation." Have the Golden State Warriors ever had the sweetness of a giraffe in their court before? It feels a little magical, and yet another fine bit of fortune for a very fine start to a season.
HELLO, NIKKI: Let us also pause and welcome the second baby giraffe at Safari West, a girl. Nikki arrived a couple of weeks ahead of Dubs, in early November, weighing in at 110 pounds. Both bouncing tykes are sure to be superstars at the Santa Rosa-close expanse, which is home to a veritable cavalcade of critters, both very tall, as aforementioned, and small, like the ever-popular meerkats. Need to wave at Dubs as you cheer on the Warriors? It can only be a positive force, so say hello next time you're at Safari West.
Copyright FREEL - NBC Local Media