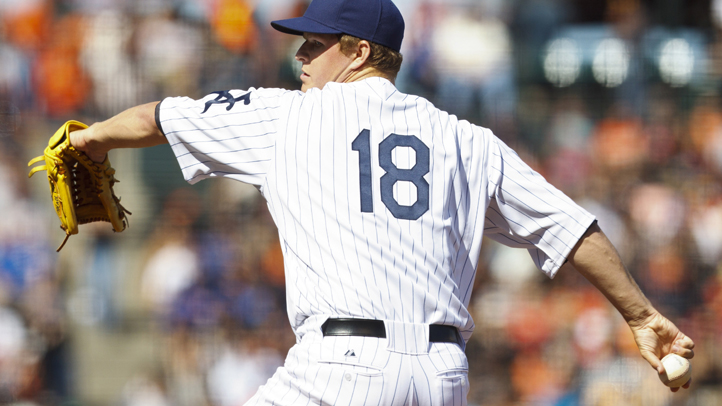 If Matt Cain looked any more appropriately temporal in his 1912 throwback uniform on Saturday, he would've stepped out of a cornfield before taking the bullpen mound.
He had the stern face and the ringed socks and the wide belt. All he needed was a nickname like the "Woonsocket Winger."
And by the end of the Giants' 2-1 victory over the Chicago Cubs, Cain had something else: A .500 record.
It only seems like a century since Cain had as many wins as losses. Pitching with a dead-ball ration of run support most nights, he hadn't enjoyed an even ledger since he was a 22-year-old with a 17-17 record in May, 2007.
Now, after charging the hill like a doughboy to beat the Cubs, he is 6-2 on the season – and 75-75 for his career.
He got there by doing what he's done throughout his tenure as a Giant. He pumped strikes, he did not shrink with runners on base and cutting through lineups like he was working on the stockyard floor.
The Giants used some spit and polish to score two runs in the sixth inning. It involved three singles, a bases-loaded walk and an RBI ground out.
The Giants own one home run in their last 17 home games. So the dead-ball era is alive and well. Good thing Cain is suited to win in any century.

Starting pitching report
Cain held the Cubs to a run on five hits in eight-plus innings to win his fifth consecutive start.
He faced the minimum over the first three innings, helped in part by Steve Clevenger's lineout that third baseman Joaquin Arias turned into a double play.
David DeJesus hit a 400-foot home run in the fourth but Cain struck out Alfonso Soriano to strand a runner at second base. The Cubs threatened again in the sixth when Tony Campana hit an infield single, stole second base and DeJesus drew a two-out walk. The Cubs executed a double-steal to put more pressure on Cain, who fell behind Soriano 3-0. But the right-hander ran the count full and got Soriano to pop out to end the inning.
After the Giants went ahead in the bottom of the sixth, Cain pitched an emphatic "shutdown inning." He needed just seven pitches to dispatch the Cubs in the seventh, giving him an opportunity to try to go the distance.
Cain dusted off Campana with a slider to end the eighth and he took the mound in the ninth to a standing ovation with 110 pitches under his belt. He was lifted after walking Starlin Castro to start the inning – and walked off shaking his head amid another outpouring.
Bullpen report
Javier Lopez got two outs on two pitches. Then Sergio Romo's knee looked just fine as he threw three sliders to Soriano to record his fourth career save.
At the plate
Matt Garza, who is expected to be a prized commodity on the trade market, didn't provide the Giants many scoring opportunities after Angel Pagan struck out to strand two in the first inning.
But Ryan Theriot and Melky Cabrera led off the sixth with singles, and after Buster Posey lined out, Pagan hit an end-of-the-bat dribbler for an infield hit to load the bases.
It was the 26th consecutive home game with a hit for Pagan, moving him into a tie with Mike Donlin for the all-time franchise record. (The Elias Sports Bureau determined that Donlin hit in 26 consecutive home games in 1905-06.)
Garza roared in protest as Aubrey Huff drew a walk on a close, 3-2 pitch inside at the knees, resulting in his fifth RBI of the season – and his first since April 16. Then Joaquin Arias followed with a chopper to shortstop that probably wasn't hit hard enough for the Cubs to turn two even if Tinker, Evers and Chance were on their infield. Huff made sure, taking out Darwin Barney with a hard slide as Cabrera scored the tiebreaking run.
In field
The Giants made a tremendous play on two ends in the fourth inning, when third baseman Arias turned in a barehand pickup of Tony Campana's bunt and fist baseman Huff scooped a throw in the dirt.
Everyone liked it but first base umpire Mark Carlson, who was no Bill Klem. Carlson called Campana safe even though the throw beat him by a full step.
Posey made a perfect throw from behind the plate and Theriot snapped a tag to catch Campana trying to steal second base. And wouldn't you know it? Second base umpire Cory Blaser got the call right.
Arias just keeps getting better at third base. Despite playing on the grass to defense against the bunt, he made a clean pickup of David DeJesus' hard grounder and threw on target to second base to start a huge double play in the ninth.
Attendance
The Giants announced 41,239 paid. And yes, those beers were sold at 2012 prices.
Up next
The Giants and Cubs continue their four-game series with the third installment on Sunday at 1:05 p.m. PDT. Left-hander Barry Zito (4-2, 3.41) will take on left-hander Travis Wood (0-1, 5.94). Sleek, modern uniforms will be worn by both teams.