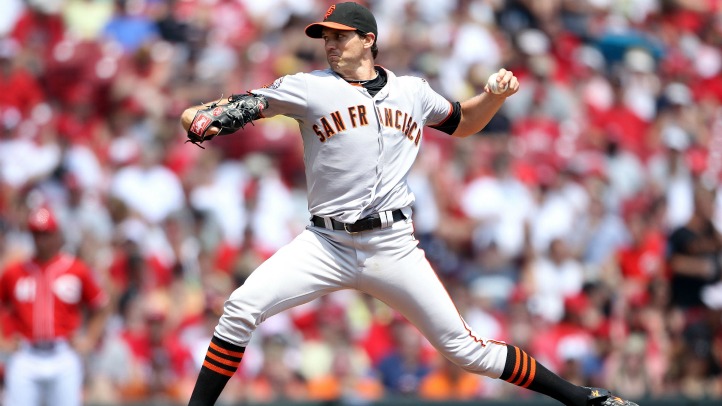 Barry Zito's ERA has ballooned up to a big old 5.62 in the past few weeks -- as recently as July 7, he had a very respectable 3.18 ERA -- and there have more than just rumblings that he's headed to either the bullpen or the minor leagues.
But the Giants have found a more temporary and less embarrassing solution: the disabled list!
Zito is headed there (again), thanks to what the team is describing as an ankle injury, but as Carl Steward of the San Jose Mercury-News writes, it's a "barely plausible" excuse, particularly given the fact that Zito didn't really seem to know that his ankle was actually injured as recently as Monday.
Bruce Bochy announced recently that Zito was getting the boot from the rotation and one of the questions involved in his demotion was "Where will he go?" Rob Neyer of SB Nation asked just that and threw out the DL as a possibility "assuming someone's able to discover some injury."
Well, the injury's been found and it's the ankle. We think.
Janie McCauley of the Associated Press notes that Bochy gave "no details of the injury" and, as noted above, Zito didn't seem to know that he was hurt either.
But that doesn't appear to matter, because he's going on the DL anyway.
This is primarily because the team doesn't want to just designate him for assignment or lob him back in the bullpen -- there's still a good chance they'll need another starter at some point in the season, and putting Zito on the DL now saves him for later as well as keeps him from being absolutely embarrassed and unable to ever pitch successfully again.
Or something.
It's still pretty embarrassing to get sent to the disabled list when you're maybe/probably not actually hurt.
But not as embarrassing as eating the rest of Zito's contract by releasing him and then -- somehow -- realizing that you need him in September for a playoff run, which might be where the Giants find themselves soon and/or now.