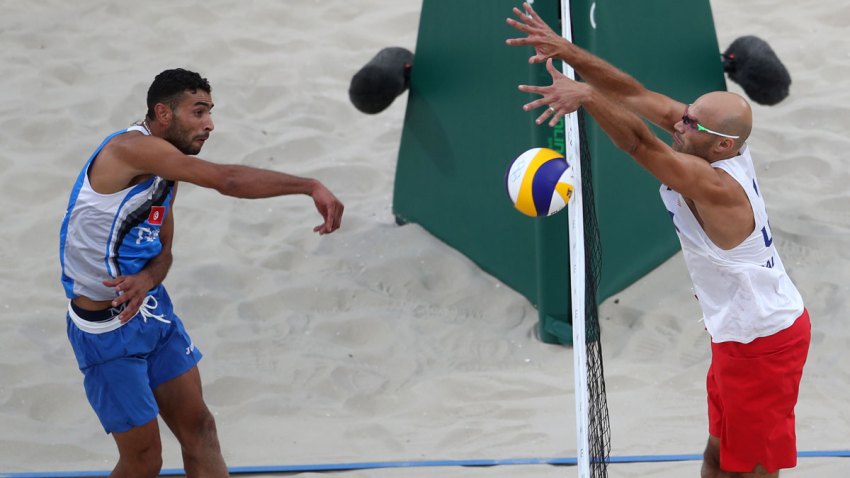 The 2008 U.S. men's gold medalist Phil Dalhausser and his new beach volleyball partner, Nick Lucena, beat Tunisia on Sunday in their first match in Rio.
The pair beat Tunisia's Mohamed Arafet Naceur and Choaib Belhaj Salah 21-7, 21-13.
Overall, the crowd was a rowdy one at Copacabana for beach volleyball.
At times when Americans Lauren Fendrick or Brook Sweat went to serve Sunday against their Polish opponents the crowd shouted "Zika!" at them.
Fendrick and Sweat, both Olympic rookies, won their first set 21-14. But Poland's Kinga Kolosinska and Monika Brzostek rallied back to take the second, 21-13. They dominated the third set 15-7 for the win.
Throughout the match, the crowd heavily favored the Polish team, even though those cheering the loudest waved Brazilian flags.
The taunting follows similar jeering at U.S. goalkeeper Hope Solo, who riled some Brazilians before the Rio Games started with when she posted a photo of herself on social media decked out in mosquito netting and armed with insecticide.
But Fendrick and Sweat are not as high-profile as solo. Fendrick said the Zika chants didn't faze them.
The pair will return to competition against Brazil on Tuesday.
Copyright AP - Associated Press