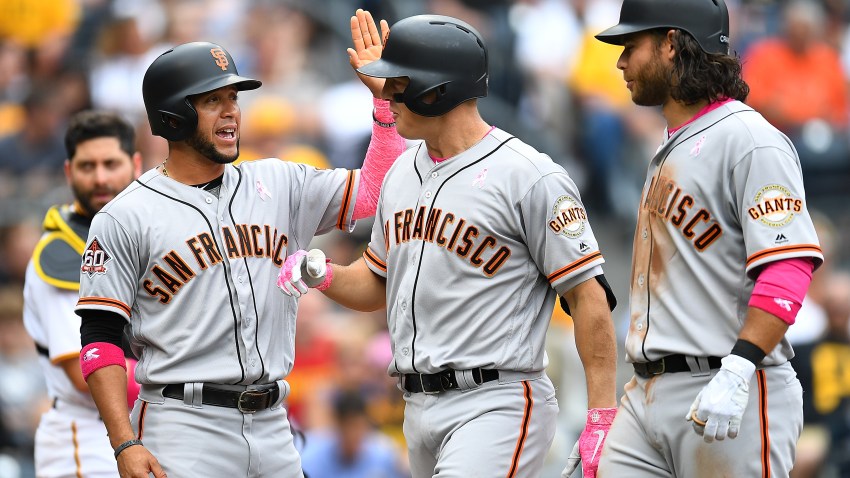 PITTSBURGH — It wasn't a surprise that a former Pirates outfielder came up big in his return to PNC Park. It was kind of a surprise that it wasn't Andrew McCutchen, though.
Gorkys Hernandez smoked a leadoff shot in the sixth to break a scoreless tie and the Giants poured it on from there, scoring five runs in the inning and winning 5-0. Derek Holland made sure the lineup had plenty of time to get into gear, throwing 6 1/3 shutout innings and getting his second win in orange and black.
The win snapped a six-game losing streak and gave the Giants a 4-6 road trip. It wasn't what they envisioned, but given how poorly they played for the last week, they'll probably take it. Here's what else you need to know ...
— Holland had his best day as a Giant. He became the first starter since last Saturday to pitch at least six innings, and despite the fact that he was at 99 pitches, he came back out for the seventh. After getting the first out, he was replaced by Reyes Moronta. Holland gave up four hits and walked five, but did an excellent job of pitching through traffic. He struck out seven.
— Through four innings, the Giants had hit six balls at least 100 mph. None of those balls resulted in base hits. Hernandez found a better way, driving one into the first row of seats in left while leading off the sixth. He now has more homers against the Pirates than he did in 33 games for them.
— With two on and two outs in the sixth, the Pirates called on Richard Rodriguez. He threw Nick Hundley a first-pitch curveball and it was skied right down the left field line for a game-breaking three-run shot. The homer was Hundley's fourth of the season. That's twice as many as the team's starting catcher has.
— Adam Frazier of the Pirates uses "Pony" as his walk-up song. Feels like that should be acknowledged far and wide, so here it is.