With the Games coming to a close, Norway is dominating the Beijing Winter Olympics medal count, snaring 15 gold. That brings us to a burning question: Why are they so good?
Norway leads both the overall medal count and the golds, notching 34 medals overall, 15 of them gold, through the competitions so far. Germany is the next-closest in gold but trails Norway by five of them. Team USA is third at eight gold medals won as of Day 15 of the Winter Games, seven behind Norway.
Here's a look at the country's 2022 Olympic journey after 14 days of competition: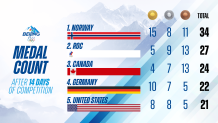 Why is Norway so good at the Winter Games?
Well, for one thing, the climate is more conducive to winter sports training. Natives also love cross-country skiing and have long enjoyed ski jumping. The Nordic Combined sport, for example, combines those two pastimes into four events -- and Norway has won a large portion of those already at the Beijing Games.
Speed skating has also been popular in Norway, which is one of only three countries to earn more Winter Olympics medals than summer ones.
Is it possible for any other country to catch up to Norway?
The chances of any country, specifically the ROC (second place) and Canada (third place) catching up to Norway's total medals is slim to none.
There are 12 medal events left in the Games and Norway is seven medals ahead of the next leading nation, the ROC. However, the ROC is not participating in some of the remaining events such as ice hockey, making the chances of any country catching up to Norway nearly impossible.
Does Norway always do well in the Winter Olympics?
Norway has won the most winter medals of any county with 380 total (136 gold, 129 silver, 115 bronze)
At the 2018 Winter Olympics in PyeongChang, Norway had the most medals with 39 total -- 14 gold.
At the 2014 Winter Olympics in Sochi, Norway finished second behind Russia, with 26 medals -- 11 gold. Russia also had 11 gold but 30 total medals.
At the 2010 Winter Olympics in Vancouver, Norway placed fourth with 23 total medals -- nine gold.
At the 2006 Winter Olympics in Turin, Norway finished 13th with 19 total medals -- two gold.
Has Norway ever hosted the Winter Olympics?
Norway hosted the Winter Olympics in 1952 at the nation's capital, Oslo, to become the first Scandinavian country to host the Winter Games.
Who are Norway's top athletes?
Some of Norway's top athletes in Winter sports include:
Ole Einar Bjørndalen is one of the most decorated Olympians with a total of 13 medals in Biathlon.
Marit Bjørgen, a former cross-country skier, is the most successful female Olympian of all time and is ranked first among female cross skiers.
Bjørn Dæhlie has won a total of 29 Olympic medals in cross-country skiing, becoming one of the most successful in the sport of all time.
Copyright NBC New York