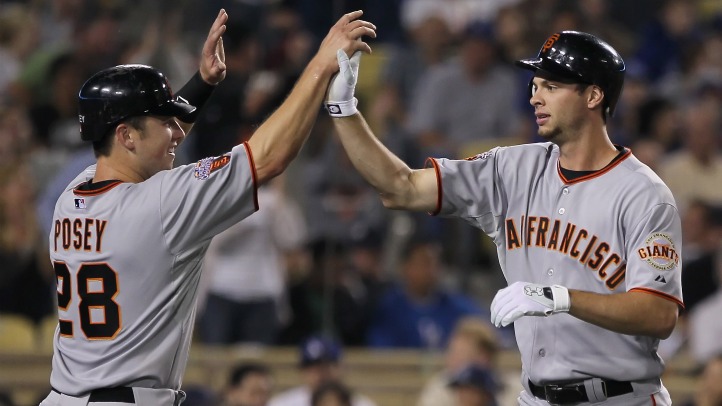 There could be some serious changes coming to the Giants' defensive setup in the coming days. Namely, Brandon Belt and Aubrey Huff could be switching positions.
Bruce Bochy said on Tuesday that he's had Belt take flyballs in the outfield in order to get ready for the possibility of a swap.
"I talked to Brandon about it," Bochy said, per Henry Schulman of the San Francisco Chronicle. "He really played right field more than anything until he went to school at Texas. He said, 'I'm comfortable out there.' "
So get ready, folks, because the way Bochy put it, it sounds like it could happen. Fortunately, Belt is, um, prepared?
"The wind is probably the toughest part of what's going on out there," Belt said. "I played outfield most of my life. I'll be out there and try to figure out the nooks and crannies the next few days."
Alright, so that doesn't inspire the high confidence or anything, but remember that he'd be getting Huff the hell out of right field, and that's probably the biggest possible upgrade this team can make across the roster, regardless of whether or not Belt's ready right now.
Of course, there's no guarantee that Belt gets to stick around. Marty Lurie, who hosts Giants pre- and post-game shows on KNBR, tweeted an interesting notion on Tuesday afternoon.
"Belt has about ten days to establish himself ... if the club is still floundering I think when Ross comes back a serious decision will be made," Lurie tweeted.
There are several issues at play with the decision on Belt. First of all, the defensive switch -- if he can put Huff back on the corner and man right field better than his predecessor (which seems likely just based on him being younger), then it's probably a no-brainer for the moment.
Secondly, Belt's bat is a concern. Even after Tuesday's game, in which Belt looked good at the plate, he's still under the Mendoza line. That shouldn't mean that he gets sent to Fresno, but it's a possibility. And it would be a bad decision -- if the team wanted to season the rookie further before starting him at the big-league level, that decision should have been made prior to the start of the year.
But personnel issues play a role here too. Andres Torres, the centerfielder and leadoff man, is up in the air right now as to whether or not he'll go to the DL with a strained Achilles' tendon.
"He's doing better," Bochy said. "He's improved quite a bit each day. He's going to hit tomorrow. We like the progress he's made. He came in the first day and made tons of improvements. We like where he is right now enough that we're going to give it another day."
If Torres ends up going to the DL, there's zero chance Belt is going anywhere, simply because there won't be enough players on the roster to suffice for any offensive substitutions. (This is how Madison Bumgarner ended up basically pinch-hitting for himself in the fifth inning on Monday night.)
Then there's Cody Ross, who's scheduled to return after a three-week absence thanks to a calf tear he suffered in the preseason. If both Ross and Torres are healthy enough to play, and Belt continues to struggle at the plate, it's possible right field won't be his furthest move.
For my money that's a mistake, because wrecking the kid's confidence this early in his career just reeks of a mistake. var params = {wmode: 'opaque'}; addPlayer('06c7c348-13be-4bf5-b1f0-8f1e92cfcb4c', '', 13806, '4ojvptzo104919fq5jmoabaal', true, false, '4ojvptzo104919fq5jmoabaal', 'eplayer2');