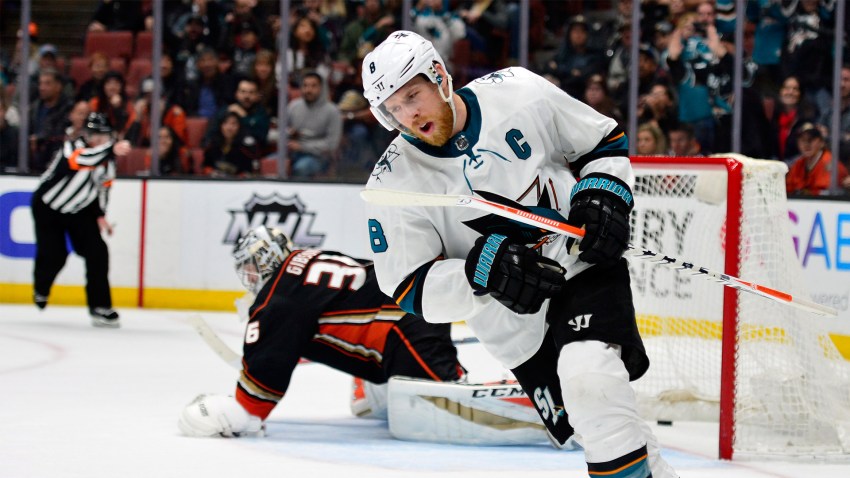 Sunday's win over the Ducks ended in a familiar place for the Sharks: A shootout. Three of four games against Anaheim this season required the skills competition, and San Jose won two of those games.
The point earned thanks to Timo Meier tying the game with 53 seconds remaining in regulation sealed sole possession of second place in the Pacific Division, while the shootout win gave the Sharks a two-point cushion. San Jose will certainly take those points without complaint, especially on the second night of a back-to-back and while Joe Thornton remains out indefinitely.
But, shootout victories carry a fairly substantial cost: The winner doesn't earn any progress towards a critical postseason tiebreaker. At the end of the regular season, the first tiebreaker used is the sum of a team's regulation and overtime victories, or ROW for short.
The Sharks have as many or more wins as all of the teams chasing them in the Pacific Division, but have the fewest ROW (26) of any team currently in playoff position in the Western Conference.
The Calgary Flames (27), whom San Jose leads by all of two points, have more. The Los Angeles Kings (28) also have more ROW than the Sharks, despite trailing by three points with a game in hand in the standings.
The Ducks (24) do not, even though they are also three points back of the team in teal. But the Colorado Avalanche, who are only two points back of the final Wild Card spot, do have more ROW (29) than San Jose.
No team in the Pacific has relied upon shootout wins more than the Sharks this season, as they've won a division-leading four games after the extra frame this season. The ensuing four-point swing resulting from those wins is currently the difference between home ice advantage in the first round, and being two points out of the playoffs entirely.
By contrast, the Flames have played in an identical number of shootouts as the Sharks (seven), and have only won twice. If they had the same number of wins, Calgary would hold the tiebreaker over San Jose for second place in the division.
Considering shootout results are largely random from year-to-year, that's not much of a stretch. All told, the Sharks have been a bit too reliant on shootout victories this season, as they wouldn't be in playoff position without them.
That's not meant to take away from Sunday's victory, as San Jose was surely happy to earn any points in Anaheim, and two points are always better than one. But of the 15 times the Sharks have gone to overtime, they've only won three times during the extra period.
As they continue to balance on a tightrope towards the postseason, they may come to regret their inability to put teams away in overtime.
Copyright CSNBY - CSN BAY