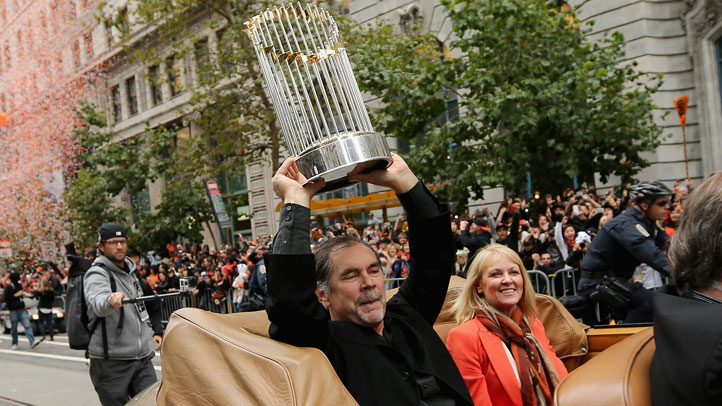 Earlier this week, MLB announced that Davey Johnson of the Nationals won the 2012 NL Manager of the Year Award.
Finishing in second was Dusty Baker of the Reds and, somewhat surprisingly, Bruce Bochy came in third overall. Considering the Giants overcame the loss of various important players, won the NL West, won the World Series and were only as successful as they were in the postseason because of management, it seems like a snub.
But Bochy's totally OK with not bringing home the hardware because "it's all about the ring."
"It's all about the ring, trust me," he said. "It was a great year for baseball and, in particular, for the San Francisco Giants. It was just an unbelievable year. We got what we wanted. I'm in a real good place."
Obviously it's easier to stomach losing an award when you pick up a World Series victory: if Buster Posey (somehow) doesn't win the MVP award, he'd probably be upset, but you know he'd survive, considering the World Series ring he's rocking.
But in the case of the Manager of the Year Award, it just doesn't seem like people are paying attention if they're snubbing Bochy.
Washington won 98 games in 2012, more than anyone in the majors. But we wouldn't say that Johnson handled the Stephen Strasburg situation perfectly, per se. Johnson's team certainly outperformed expectations by winning the NL East, but they were also aided by a Phillies team that crumbled, a Braves team that struggled through long stretches and horrid Mets/Marlins teams.
Baker fought through a Joey Votto injury (Todd Frazier helped), and did a great job turning some shoddy pitchers (Bronson Arroyo) into one of the better pitching staffs in the bigs. But he also consistently flubbed his lineup in terms of producing runs and he used Aroldis Chapman as the closer all season and still managed to burn out his arm.
But Bochy dealt with more than anyone else in our opinion. He lost Melky Cabrera, his best hitter at the time, to a suspension. He lost his closer, Brian Wilson, after two innings and won the World Series essentially using a closer-by-committee approach for the majority of the season. He dealt with his best pitcher, Tim Lincecum, turning into one of baseball's worst pitchers. He dealt with multiple lengthy injuries to Pablo Sandoval. And he dealt with one of the worst run-producing championship teams in baseball history.
All three guys are deserving but in our minds, Bochy should have gotten more credit and ultimately probably got snubbed considering how he managed this team throughout the year. Not that he's all too worried about it though.