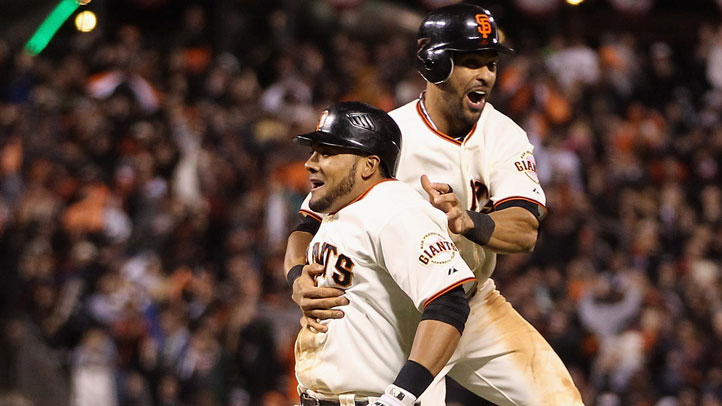 Several times this season, we've taken an opportunity to look back at the Melky Cabrera trade. As noted, the early returns are LOL-worthy if you're the Giants and something the Kansas City Royals would probably prefer to sweep under the rug.
There's also the deal that swapped Andres Torres for Angel Pagan, which gets slept on. But we haven't heard any gloating coming from the Giants, all the compliments being handed to Melky aside. Bruce Bochy changed that on Wednesday when asked about the deals the Giants pulled off during the offseason.
"Great trades for us," Bochy said, via John Shea of the San Francisco Chronicle. "You're talking about the three hitter and five hitter right now. Those are two spots you usually don't get in trades. We were able to do that."
The Melky-for-Sanchez deal is a no-brainer, obviously. Sanchez is on the disabled list right now and has only pitched in 25 innings thus far this season, striking out 18 and walking 22. He's been either very bad or very injured.
Melky, of course, is playing at an MVP level right now, breaking Willie Mays' San Francisco Giants record for hits in a month, and generally tearing his way through opposing pitching staffs.
But how about the deal that sent Torres to the Mets for Pagan?
Well, thus far, Pagan's been substantially better than Torres on the season. Torres has had his moments, but he's been injured and has played in just 30 games, posting a .213/.346/.303 (ew) line, with one homer, two stolen bases and 18 walks. He's been worth 0.1 wins above replacement for the Mets.
Pagan on the other hand has racked up 1.5 WAR for the Giants, playing in 48 games and posting a .316/.358/.469 line with four homers, 10 steals and 14 walks.
He's been the better player by far, and as much as Giants fans might love Torres for his play in 2010, that deal was a pretty smart one by Brian Sabean as well.
Obviously it's still early, and the Giants would very much like to get a little closer to the NL West lead before shooting off fireworks and finger guns over their offseason moves, but right now, Bochy looks pretty spot-on with his description of the deals.