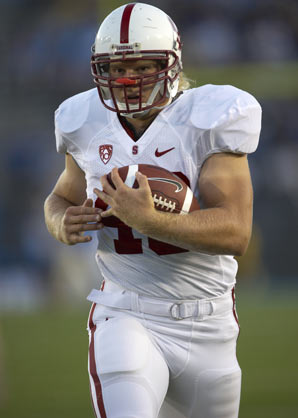 The Stanford football team is in the middle of a great season. A season that could see the Cardinal playing in the Rose Bowl. Head Coach Jim Harbaugh and star quarterback Andrew Luck rightfully get most of the headlines.
However, two other players were getting attention on Tuesday for what they do not only on the field, but off. Two way player Owen Marecic and center Chase Beeler earned spots on ESPN's Academic All-America Team.
Beeler, a three year starter on the offensive line was named to the first team. He has a 3.68 cumulative grade point average as a history major. Marecic has a 3.47 GPA as a human biology major. Only at Stanford.
When Marecic was asked how he juggles school and football, he told NBC Bay Area Sports after practice that you "just have to pour yourself into it." Beeler added, "you just have to spend time at the library".
Stanford's "true student-athletes" wrap up their regular season Saturday, when the team hosts Oregon State.