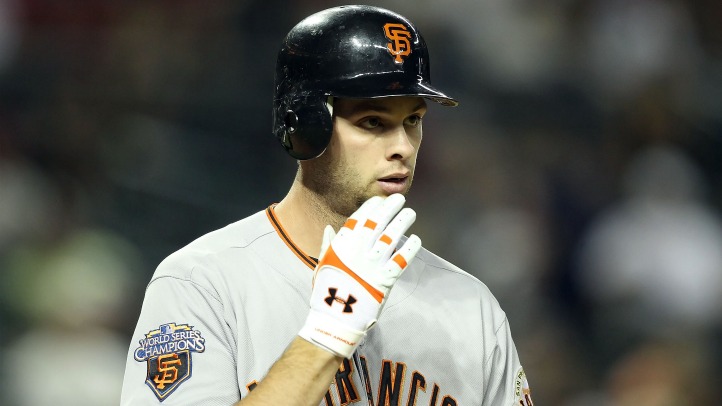 Brandon Belt missed his fourth-straight game with a wrist injury in the Giants 2-1 loss to the Rockies on Saturday, and after the game, the team found out he'd miss a few more.
Bruce Bochy told reporters that Belt was headed to the disabled list with a hairline fracture in his wrist and that Conor Gillaspie would be called up to replace him on the roster.
The move is retroactive to June 1, which means that Belt will likely miss close to a dozen games.
Bochy, per CSN Bay Area, "begrudgingly admitted" that Belt's wrist was fractured.
Gillaspie, a third baseman at Fresno, last got a call-up in 2008 when he played just a few games for the Giants.
And his callup could be bad news for Miguel Tejada, who stands to lose even more time with a non-outfielder being brought up.
The injury is the latest in a pile of bad breaks (no pun intended) for the Giants in the 2011 season that's seen a slew of players make trips to the DL.
Belt, Pablo Sandoval, Buster Posey, Barry Zito, Mike Fontenot, Darren Ford, Aaron Rowand, Cody Ross, Andres Torres, Freddy Sanchez, Santiago Casilla, Brian Wilson and -- whew -- Mark DeRosa have all been and/or are still on the disabled list this season.
That's a pretty ridiculously large group of people, but it's one of those things that stands out more predominantly when a team is coming off a championship season.
All of that could mean a decent turnaround if the team can get healthy after the All-Star Break, but right now, it doesn't do anyone a whole lot of good.