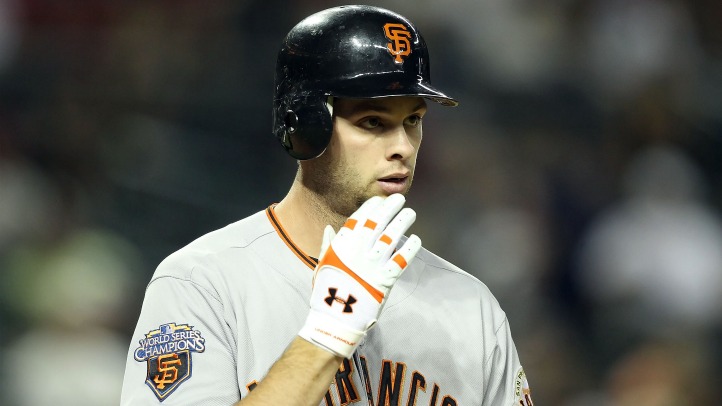 Brandon Belt would've had a shot to win the game for the Giants on Tuesday night after Nate Schierholtz doubled to deep center with two outs in the bottom of the ninth.
Except Belt had been pegged with a Trever Miller fastball in the seventh, and Emmanuel Burris had to step in and pinch hit for Belt.
The first baseman-turned-outfielder was so sore, in fact, he couldn't throw the ball after being pegged in the late innings.
Fortunately, X-Rays on Belt were negative and he's not going to miss any substantial time.
"It looks like it might be a day or two," Bruce Bochy said. "It's pretty sore where it hit him. Right now, it's good news."
Anything relating to one of the Giants youngsters not missing too much significant time is "good news" at this point -- Belt would be the 10th Giants player to the disabled list if the injury was serious.
And, of course, having the second-best young player on the Major-League roster miss any significant time with Buster Posey already sidelined, well, that wouldn't exactly make fans really start to rally behind this team.
So, yeah, it's good to hear that Belt feels alright.
"It got me pretty good," Belt said. "I'm a little stiff but we took a few X-rays and everything looked pretty good. Hopefully I'll get back out here as soon as possible."
There's no huge rush -- the Giants obviously need the offense, but they're still just a half-game out of first place in the NL West.
In fact, sitting Belt until Friday night's game against Colorado -- it kicks off a nine-game homestand -- certainly isn't the worst idea in the world.
Belt was going to pick up some at-bats at first base with Aubrey Huff sitting thanks to an enormous slump, but it looks like Huff will have to bust his way back to respectability without taking too much time off to figure out what's wrong.
For Giants fans, though, it means Belt's fine, so that's not a terrible thing.