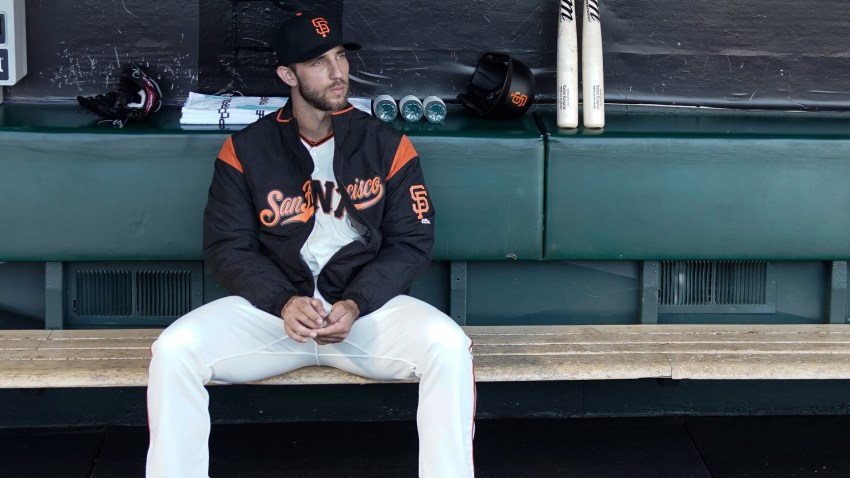 SAN FRANCISCO - Forget the standing ovations or "Fire on the Mountain." Put aside the fastball that had David Peralta take a knee, the cutter that he turned to repeatedly, and the changeup that was so surprisingly sharp that Bumgarner threw a month's worth of them on a whim
Here's how you know Madison Bumgarner is back and feeling normal: He was pissed off that he didn't get a run in during his second at-bat of the season.
"You've just got to find a way to get a guy in," he said of a fifth-inning confrontation with Patrick Corbin. "Bases loaded, no outs…there's no excuse for it."
Well, there is, and it's not the fact that Bumgarner is a pitcher. He had just one at-bat during a two-start rehab assignment, and Corbin is a monster. But Bumgarner wouldn't want to hear that. He is dangerous at the plate, even coming off a long layoff, and he was disappointed in his strikeout, one of three straight for the Giants in that big spot.
There was little else to quibble with, though. Bumgarner scattered eight hits over six innings, didn't walk any Diamondbacks, and struck out three. He got stronger as the night went on, but the Giants didn't. They fell 3-2, wasting one opportunity after another against a scuffling Diamondbacks club.
The Giants left 11 on base, three in that fifth inning, when Gorkys Hernandez and Buster Posey followed with strikeouts. Posey later flied out with the bases loaded, but came up with an RBI single in the top of the ninth. Evan Longoria couldn't finish the rally.
That left Bumgarner with a loss, but this wasn't a bitter night. After missing two months with a fractured pinky - "I can't believe all this is over a pinky finger," he would often say - Bumgarner returned to lead the rotation. He mixed in a new wrinkle, too, throwing 14 changeups, his most in nearly four years.
"I had a good feel for it tonight," he said. "More than I usually would. We started going to it and it was working. I'm trying to go out there and compete and adjust. I'm willing to change my gameplan."
Bumgarner said he went changeup-heavy to offset the Diamondbacks' aggressive swings, and that's another way you know he's feeling right. This night was not about getting his arm strength up. Facing hitters for just the third time since March, Bumgarner felt good enough to adjust and go for the jugular. He came up a bit short, but he was happy to be back out there trying to carry a heavy load.
"That's what I get paid to do," he said. "It's nice to earn your paycheck instead of stealing it."
Copyright CSNBY - CSN BAY