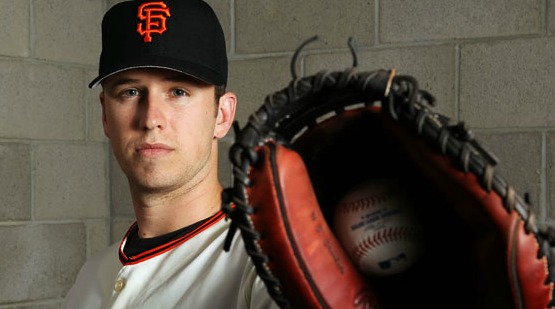 To the delight of all San Francisco Giants fans, catcher Buster Posey returned to baseball Friday.
Posey was behind the plate for two innings catching for pitcher Matt Cain. Posey came out swinging at the first pitch he faced. In the end he hit a flyout in his one and only at bat.
Buster was introduced with great enthusiasm by the public announcer in Scottscale and received a standing ovation from the crowd.
This was Posey's first time at the plate since May 25, 2011, when he tore ligaments in his left ankle in a collision at home plate.
"Everything felt as good as it's been feeling this spring," Posey told CSN. "I was a little bit anxious before the game but once the game started it felt pretty normal ... I haven't played since the end of last May so I definitely had some nerves. Good nerves though."
MLB.com has a dugout interview with Posey here.
Cain told Comcast that Posey did not skip a beat.

"He had the gameplan of what we wanted to do and he went out there and did that. That's kind of the way Buster is. He did that even when he first came up and didn't skip a beat from then till now," Cain said.
Posey is supposed to have Saturday off, but will be back in the squat Sunday. He played two innings on Friday and is scheduled for four innings on Sunday.

"I think it's just going to be day by day," Posey told CSN. "I think this is part of the process is see how my ankle responds tomorrow. I think by all indications of how it feels now, I think it'll be good."
Notes courtesy AP:
Second baseman Freddy Sanchez also hadn't played since he suffered a dislocated right shoulder on June 10, 2010. He played all nine innings as the designated hitter and went 1 for 4.
Giants outfielder Melky Cabrera hit a two-run homer, his third of the spring. Brandon Belt also homered.
Left-hander Aroldis Chapman started for the Reds and pitched two perfect innings, striking out two. Todd Frazier homered for the Reds.