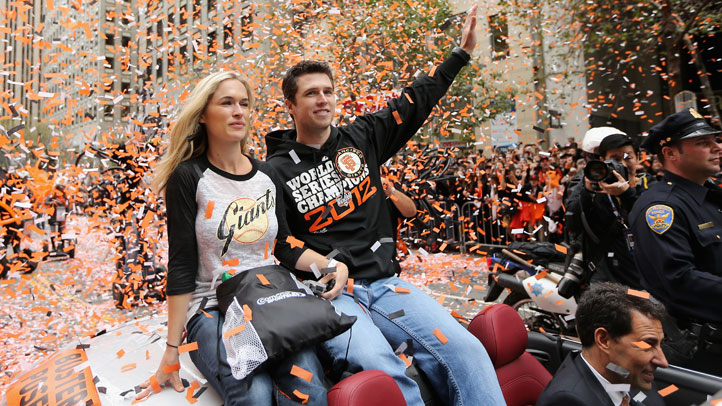 It's not often you talk about a $167 million contract -- which is what Buster Posey's new contract provides him in new money -- as a "team-friendly" deal. But Posey's deal is very much that. It's also a win-win for everyone involved.
When the Giants locked down Posey with what amounts to an eight-year extension worth $159 million (Posey was already due $8 million in 2013 on a one-year arbitration-agreed contract), they gave him financial security for life. To put that in context (in case you need context for $159 million), Joe Flacco became the highest-paid player in NFL history this offseason when he signed a six-year, $120.6 million deal.
But this is where the difference comes in. Posey's deal is long enough that the average annual value -- a key negotiating point in contracts, obviously -- is "only" $18.5 million. That's a lot of money, but it's an incredibly team-friendly deal as well.
By comparison's sake, the Tigers signed Justin Verlander to a new contract that will pay him $20 million per year in 2013 and 2014 and then $28 million per year through 2019.
Posey isn't underpaid, per se, because no one who makes $18.5 million is ever "underpaid." But he took less money than he could've gotten when he eventually hit the open market in order to remain a member of the Giants for, one would assume, the duration of his career.
And that's why it's a good gamble by both sides. The 2012 National League MVP turned 26 on Wednesday; he hasn't even his freaking prime yet and he's already got a Rookie of the Year Award, an NL MVP Award, a Silver Slugger Award and two World Series titles.
Posey did all despite missing a large portion of 2011 because of a major injury. His comeback in 2012 is even more impressive because of that injury. But that injury also makes it wise of Posey to take the money and run now. He locks down his long-term security and won't ever have to worry about whether or not injury could derail his future earnings.
For the Giants, they pay heavily up front and gamble on a guy who's had one of the greatest starts to a career in MLB history and who hasn't shown any signs of being someone other than a lock for the All-Star lineup for years to come.