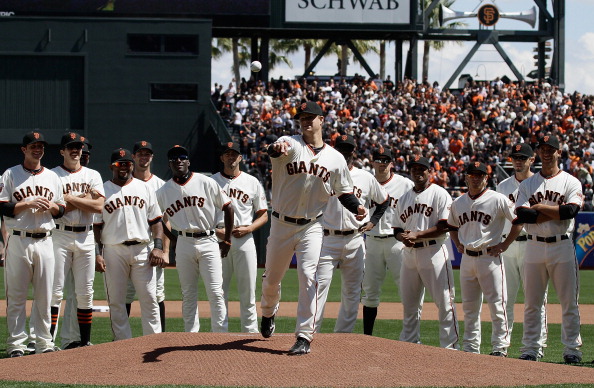 Daniel Hudson brought his "A" game on Friday night when the Giants came to Arizona, but it wasn't enough to overcome Pablo Sandoval's big blast and a strong outing from Matt Cain as the Giants pulled out a road win against the Diamondbacks 5-2.
Cain, now 2-0, dominated over six innings, allowing just one earned run and walking two while striking out three. His first five innings were absolutely dominant.
"He's really, I think, grown so much over the past year and a half," manager Bruce Bochy said of Cain. "He's carried what he did in the postseason to this year, that's mixing up pitches, quality strikes. He's got a good changeup going and good poise out there."
Cain's only earned run came in the seventh when he allowed a double to Stephen Drew and hit Melvin Mora with a pitch to start the inning; Jeremy Affeldt and Ramon Ramirez relieved him after 102 pitches and gave up an earned run before retiring the Diamondbacks over the next two innings.
Hudson -- as we mentioned in the preview, is already a hard-luck loser, having gotten a whopping one run from the 'Backs in his three starts -- struggled again to keep his opponent off the board early. Pablo Sandoval, now batting a svelt .356 on the season, stroked a changeup to right-centerfield in the first inning for a three-run blast that scored Buster Posey and Freddy Sanchez.
"I just tried to get a good pitch to hit," Sandoval said, "Get relaxed at the plate and get a good pitch you can hit."
The Giants tacked on another run in the fourth when Panda walked, advanced to second on a Brandon Belt single and scored when Miguel Tejada smoked a double to left field.
Brian Wilson's services didn't appear to be necessary, but Javier Lopez struggled to close things out while sitting on a 5-1 lead and Wilson stepped in to shut things down, though he allowed a run (attributed to Lopez) on a Willie Bloomquist single before closing out the Snakes.
It was another win that typified what the Giants do best -- provide enough offense to back up an incredibly strong pitching staff, and let them do what they do best ... shut people down.
Cain won't get the recognition he deserves, primarily because he's in the same rotation as Tim Lincecum, but he's establishing himself as one of the truly dominant pitchers in the National League.
2010 appeared to be a blip statistically, but Cain's ability to keep his walks down -- he issued just 61 free passes last year, down from 73 in 2009 despite an increase in innings pitched -- carried over to the postseason, when he absolutely dominated (21-plus scoreless innings).
"I definitely go back to the postseason where I mentally was and try to use that to my advantage," Cain said following Friday's win.
And it looks like it's also rolled right over into 2011; he's only allowing 1.9 walks per inning thus far in the season and is really starting to show signs that he's capable of blossoming into a truly legit "ace."
If that happens, the Giants will find themselves essentially having a No. 1 starter pitching two out of every five days.
That's the type of advantage that gets a team to the postseason and, as we saw last year, brings home championships.