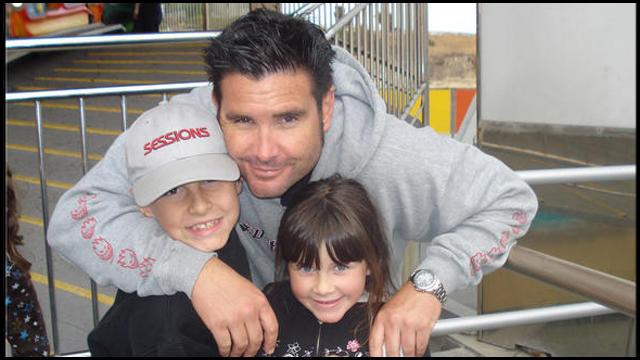 Full disclosure: I love LA. Love it. But it wasn't always that way.
Growing up a Willie Mays fan in San Luis Obispo (where I watched Mike Krukow pitch for the Cal Poly Mustangs) LA was always derided as "smogsville." There was no love for anything south of Santa Barbara.
Years later, when opportunity knocked, I ended up in the place I had once detested. It didn't take long for feelings to change. There was the weather, the ocean, the mountains, the desert and the steady influx of beauties all wanting to make it in Hollywood.
I embraced everything about the "Southland" ... save for one thing: the ballclub.
Years passionately pulling for oft-crummy teams amidst small crowds, in ugly, cavernous Candlestick Park, amidst horrible weather is a struggle not easily forgotten. I had invested far too much to even consider changing loyalties from the Giants to the Dodgers.
I have remained true during 25 years as a Los Angeles TV news broadcaster.
I never feigned loyalty to the Dodgers when I reported on them. But, as a fan of the game, and of Vin Scully, I always respected the franchise.
For years Dodger fans were known as the class of the league. (They gave Willie McCovey a standing ovation when, on his last career at bat which was at Dodger Stadium, he knocked in what turned out to be the winning run with a sacrifice fly.) The ballpark was beautiful, the usherettes friendly and the fans never took the rivalry as seriously as we did. I could go to games and never have a problem.
Of course that has changed, evidenced by the fact that a man was nearly murdered for doing nothing more than wearing a Giants shirt in the parking lot outside the stadium. Bryan Stow is being kept in a medically induced coma until his brain can heal and he can stop involuntarily seizing.
The Stow attack was the culmination of a steady slide of one of Southern California's greatest institutions. More fans are staying away because of a sinister atmosphere that has taken root there. I don't go unless it's for work.
None of this is good, either for the game, the rivalry or the Giants. Along with the anger over the Stow incident we should also be rooting for the Dodgers to make a comeback. It is only fitting. After all, we owe them.
There wouldn't be a San Francisco Giants, much less a World Series championship, had it not been for the Dodger owner back in 1993 who saved us from a move to Florida.
Peter O'Malley singlehandedly stopped the sale to a Tampa Bay group.
"That's a little known story", Giants President Larry Baer told me recently. "We flooded Peter with letters pleading with him to keep the team in San Francisco. The rest of the owners said it was up to him if the Giants were to move. He's the one who nixed the sale."
O'Malley repeated the same thing to me several years back, acknowledging the thousands of orange post cards he received from the Giant faithful.
The letters convinced him there was a future for National League baseball in the Bay Area (I take some pride in having filled out a box full of those cards ... sent to me by boyhood friend Mark Chandler at San Francisco city hall).
Years ago at Candlestick I rooted for my team. But more than anything else I rooted for people to care about my team. Done.
Now I have a new wish: that Bryan Stow wakes from his coma, hugs his kids and gets his life back.
Oh ... and that the Dodger's find a way to return the franchise to the Tiffany status it once held. It would be nice to go back there someday and root against them.
-- Conan Nolan is a reporter at KNBC in Los Angeles -- and he wants his national pastime back.