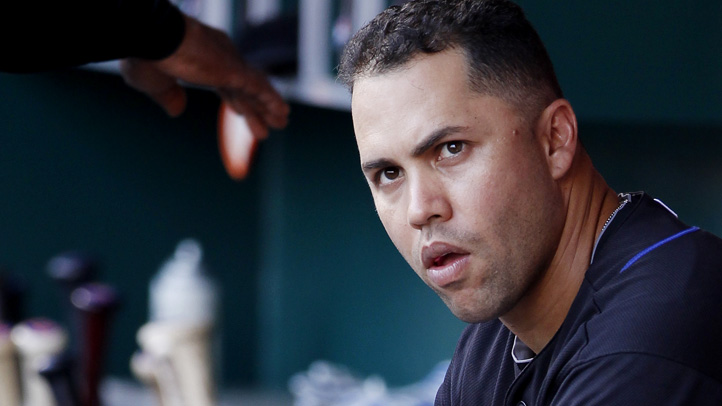 Six games in, the Carlos Beltran for Zack Wheeler trade that the Giants made at the deadline is an unmitigated disaster.
At least that's what the team's record tells you -- the Giants are 1-5 since making the move and bringing Beltran in, have lost two-straight series and are no longer sitting on a lead in the NL West.
Thanks to giving up the first two games of the Diamondbacks series, Arizona's now tied for first place in the division and have momentum squarely in their corner.
Beltran's scuffling as well, going five-for-25 as a Giant with no home runs, one RBI, and a miserable .200/.231/.280 line. (Pro-rated over an extended -- 172 plate appearances -- period of time, it would have been like acquiring a much more expensive Brandon Crawford.)
But it's not time to panic. No, really.
Beltran won't hit like this forever. He's dealing with a change in scenery (maybe he's still suffering jet lag!?!?!), he's dealing with a new clubhouse, he's pressing to be the savior of a lineup that's been terrible all season long and it's not his fault that the team's losing games.
Plus, this is the smallest sample size one could possibly offer. Well, it could be smaller, but you get the point -- you can't simply have a knee-jerk reaction to a player's performance in a short period of time like we've seen Beltran, even if he's clearly not performing up to his own standards.
To wit: in 2004, the Houston Astros went 2-4 to start Beltran's tenure down in Texas. Was it his fault? Well, not quite -- he hit four home runs in that stretch and batted .417 in just 24 at-bats.
Clearly he came in rolling to Houston and didn't skip a beat.
But things were a little different then, too, as Beltran was coming from a tiny market in Kansas City and diving into the playoff race.
But here's the thing: over his next six games with the Astros, Beltran batted .136/.231/.182 with no home runs and just three RBI.
The point? Six games in baseball are a big deal when you're giving up a division lead and you just paid a hefty price for a big-name slugger and things are turning south on a promising season quickly.
But it's still six games, and you can go find just about any baseball player, cherry-pick six random games and point to a slump.
If Beltran smokes two home runs on Wednesday afternoon -- and, hey, he's got six home runs in just 25 day games this season so don't count it out -- and the Giants win and kick off a winning streak, this little run will be forgotten.
Things aren't guaranteed to get rolling that quickly, of course, but in baseball, even amid a playoff push, patience is a prudent thing.