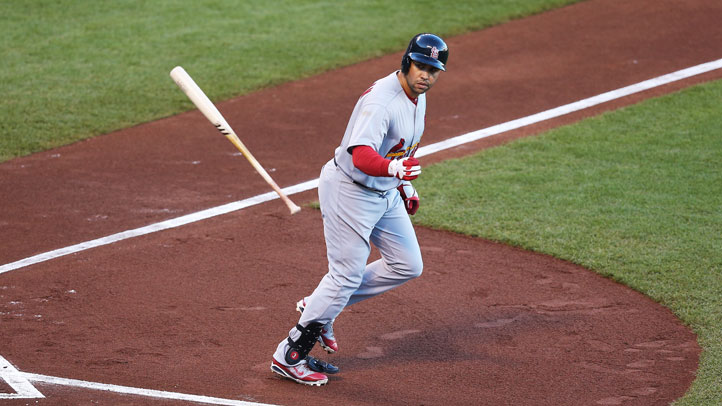 It's already been a weird National League Championship Series between the Giants and the Cardinals, and it got weirder in the first inning on Wednesday, as Carlos Beltran left the game with a strained left knee.
Beltran, who might very well be the greatest postseason player in MLB history, had been dealing with a left hand injury prior to the beginning of Game 3. But when he was in the lineup, it appeared he was primed to go for the Cardinals in a critical game of the series.
Instead, he appeared in the first and grounded into a 6-4-3 double play to Marco Scutaro and was beat out on a Brandon Crawford throw to first (which also featured an, ahem, interesting slide by Jon Jay).
Beltran stretched on his way to first trying to beat the double play but didn't appear to seriously injure any part of his body, much less his knee.
The right fielder was replaced by Matt Carpenter to start the second inning.
The Cardinals then announced that Beltran had left the game with a strained left knee and that he was "day-to-day."
Carpenter's a nice match-up against Giants starter Matt Cain, going 4-for-4 in his career against the San Francisco righty.
But there's no question that losing Beltran for this game -- much less an extended period of time -- is a big blow to the Cardinals.
He's one of their best hitters and one of the best hitters to ever step into the batter's box during the playoffs.