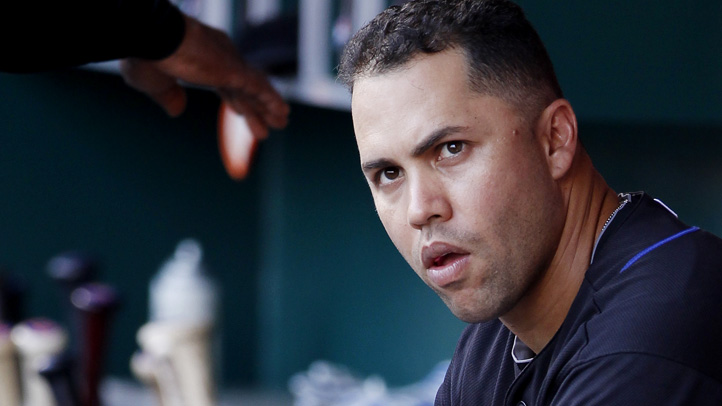 Carlos Beltran is back from the disabled list, though in case you couldn't tell by the Giants offensive performance on Tuesday, he didn't play. And/or he wasn't inspiring to the team.
Whatever, Beltran should be ready to play soon -- he was available on Tuesday night as a defensive replacement, according to manager Bruce Bochy.
"It's been a disappointment, not being out there to compete," Beltran said, per Andrew Baggarly of the San Jose Mercury-News. "But I was doing everything I can to try to make this pain go (away) faster. Just being out there means a lot. This is where I wanted to be, with a team fighting to go to the playoffs. Even though we're not playing the best baseball, we're there. Arizona isn't playing good, either.
"This is about who wants it the most. It's about taking the field and making it happen."
Here's the thing about Beltran's stint with the Giants: he was brought out to San Francisco to help the team run away with the National League West.
It hasn't worked out that swell, though, as the Giants surrendered the three-game lead they held when Beltran arrived, and currently are down two games.
This isn't all Beltran's fault, of course, but he's the guy that the franchise mortgaged the future for, and up to this point he's either been hurt or struggling at the plate. Neither of those do the Giants much good.
And neither does Beltran being upset about it.
"How will I feel when I swing and miss? When I chase a bad pitch? When I checkswing? I don't know," Beltran said. "I'm going crazy, man. These 15 days have been hell. Because you can't do anything, you know? But thanks to God we're passing that."
The Giants aren't out of the race yet, by any stretch of the imagination. They've been here. They've done this. And now they -- in theory -- have some stronger, veteran offensive help in Beltran to help push them over the top.