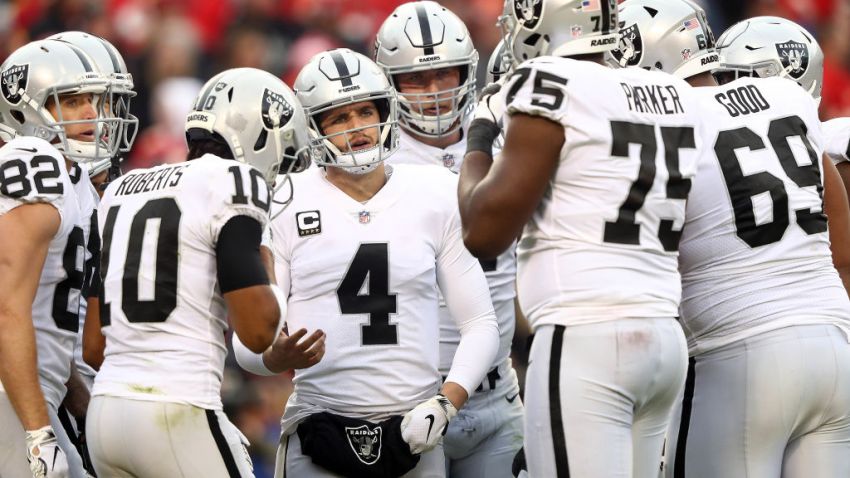 In 2016, Raiders quarterback Derek Carr was a rising star in the NFL and a candidate for the NFL's Most Valuable Player award.
At age 25 he led his team into the playoffs and was 12-3 in the games he started. He threw for 28 touchdowns, was intercepted just six times and took only 16 sacks while compiling a 96.7 quarterback rating. Without him because of an injury, the Raiders were ousted in the first round of the postseason.
Since then, Carr has struggled – though he came on in the second half of 2018. But quarterbacks are judged by wins, and Carr has a 10-21 record as a starter over the past two seasons.
But, Carr's play late in 2018, his familiarity with Jon Gruden's offense now and a better surrounding cast could mean Carr will take a big step forward in 2019.
Gruden, for one, believes Carr will be much better.
"He threw for 4,100 yards (in 2018)," said Gruden. "Threw for almost 70 percent in a very dire, tough circumstance. So I've got a lot of confidence in Carr (and) what he can do with Antonio Brown, with Tyrell Williams, with Trent Brown coming in here to help our offensive line."
One NFL analyst who also believes Carr will regain his 2016 form is Adam Schein of NFL.com. Schein wrote this week that the addition of the wide receivers Brown and Williams will open up the passing opportunities and additions on the offensive line could give him more protection than 2018, when Carr was sacked a career-high 51 times. Plus, first-round pick Josh Jacobs at running back could take the pressure off the passing game.
Schein picks Carr's resurgence as one of the NFL's stories to watch in 2019.
Wrote Schein: "I can't wait to watch Carr and the Raiders get back to relevance and domination on offense, specifically in the passing attack. Carr will once again be a top-10 quarterback in the NFL, lighting up opposing teams on a week-to-week basis."