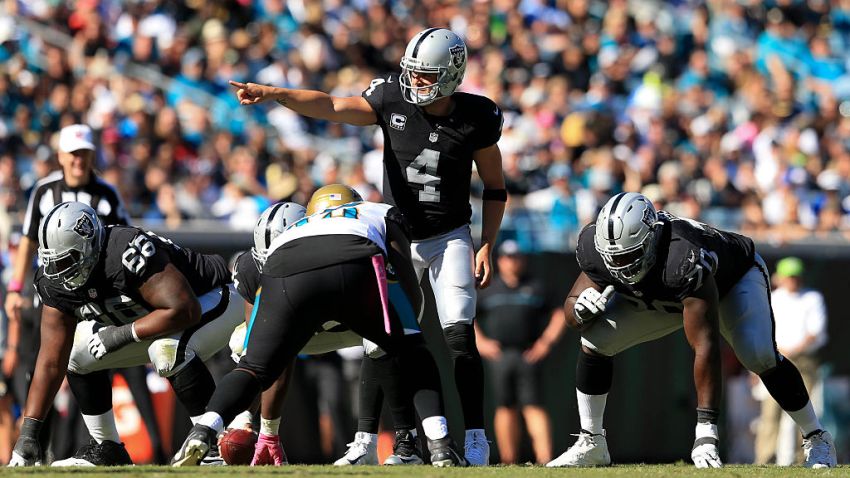 One of the Raiders' strengths in 2016 has been their efficiency in scoring from the red zone.
Oakland ranks fourth in the NFL in scoring touchdowns when it gets inside an opponents' 20-yard line, scoring TDs on 75 percent of its opportunities. It's a big improvement in the Raiders' success rate of 61 percent in 2015, and a big reason why Oakland is atop the AFC West at 5-2.
But in recent weeks, the Raiders' efficiency has slipped a bit.
In Sunday's 33-16 victory over the Jaguars in Jacksonville, the Raiders couldn't score a TD in their first two trips inside the Jags' 20 and had to settle for field goals. They converted on their next three trips into the red zone, but it wasn't a good start for the day and left quarterback Derek Carr upset that the offense didn't do as well as it could have.
In fact, the early troubles were part of a pattern, according to Paul Gutierrez of ESPN.com. Gutierrez noted that after converting 11 out of 12 red-zone trips to start the season, the Raiders went into the Jaguars game having scored TDs on just five of their last 10 opportunities. That extended to just 5 of 12 Sunday before the Raiders got back on track.
Carr told the media after the victory in Jacksonville that he was frustrated by the offensive lack of execution, including his own.
"There's three plays down there in the red (zone) where we're literally this close from having a lot more points," Carr said. "We've got to figure out a way, whether it's rep it again or work harder, whatever it is, we have to do it."
On Oakland's first red-zone trip, the Raiders had second-and-5 at the Jags' 7 in the first quarter, but Carr threw two consecutive incompletions on attempts to Latavius Murray and Clive Walford. In the second quarter, the Raiders had first-and-10 at the Jags' 17, but a 3-yard run and two Carr incompletions, intended for Murray and Seth Roberts, resulted in another Sebastian Janikowski field goal.
The Raiders will stay in Florida this week to work on their red-zone offense and prepare for this Sunday's game in Tampa Bay against the Buccaneers. Kickoff is set for 10 a.m. in the Bay Area.