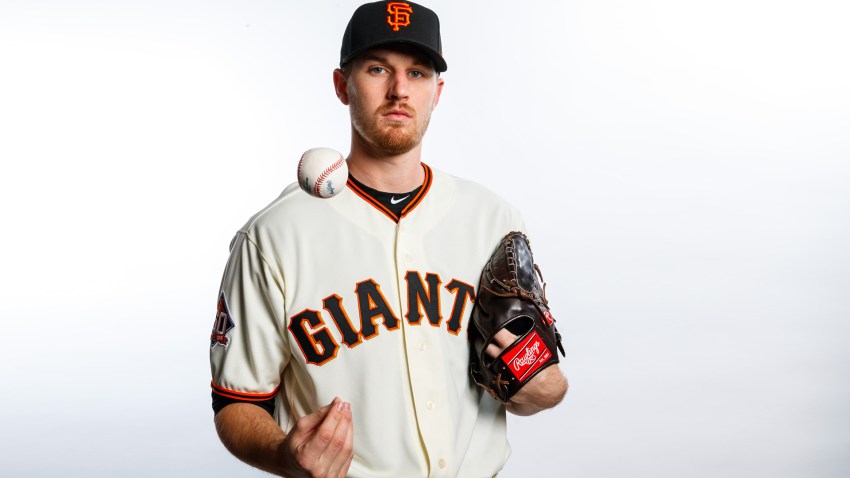 GLENDALE, Ariz. - The first outing of spring training is the shortest one of the year for most starting pitchers. Some are limited to one inning, and if they're sent out to go a second frame, they usually aren't allowed to extend themselves.
That wasn't the case for Chris Stratton on Saturday at Camelback Ranch. Stratton found the bases full of Dodgers with two down in the second inning and Chase Utley at the plate. He didn't dare look in at the visiting dugout. He didn't want Bruce Bochy or Curt Young to think he was ready to come out. Stratton went to his bread-and-butter pitch, freezing Utley and ending the inning with a filthy two-strike curveball.
"Might as well, right?" he said.
The pitch, which has one of the highest spin rates in baseball, helped Stratton break through last season. So did advice from veterans, particularly Matt Cain, and Stratton said Cain's lessons are still rattling through his head. He told a story about looking into the dugout during a tight spot of a home start last season to see if pitching coach Dave Righetti had any advice for him. Later, Cain pulled Stratton aside.
"Be wary of looking to the dugout, because they'll think you want them to come get you," Cain told Stratton.
While Stratton didn't think of Cain in the bottom of the second Saturday, he said those lessons are now ingrained in him.
"Hopefully I took it to heart," he said.
The 27-year-old is now in pole position for a rotation spot, but he's still eager to learn from Cain, who retired at the end of last season. Stratton has sent Cain a few messages in recent months asking him to come visit Scottsdale Stadium. "I told him I need him to hurry up and get to the clubhouse so I can mess with him," he said. Bruce Bochy has also asked Cain, who lives in the Phoenix area, to visit, and the Giants are hopeful he eventually takes on a role as an instructor. The process unofficially started last season, when Cain became a mentor for one last round of young starters.
"He knew his time was winding down," Stratton said. "I think he wanted to pour as much into me and Ty Blach and the young guys as he could."
There's one lesson Stratton doesn't need Cain to give. Nobody needs to tell him that every start is important, despite his success last season. Stratton had a 3.68 ERA in 13 appearances and entered camp as a heavy favorite to win one of the final two rotation spots, but he's not looking ahead to the regular season yet.
"I just think you've always got to prove yourself," he said. "I don't think anything is given to a young guy."
That's true, but Stratton won't have to dominate the Cactus League to guarantee a roster spot. The Giants just want to see him build off last season, and Saturday was a good start. Stratton pitched two shutout innings against the Dodgers, who loaded the top of their lineup with regulars Utley, Cody Bellinger, Joc Pederson and Yasiel Puig.
If all goes according to plan, Stratton will face the Dodgers on April 1. That's the fourth game of the season and it's nationally televised, and either Stratton or Blach will likely get the assignment. The other could be skipped since the Giants are off the next day, starting the year in the bullpen. Stratton shrugged when the possibility was brought up.
He received just 20 minutes notice for one start last year because Johnny Cueto was a late scratch. Two other starts were delayed by pre-game ceremonies. Two others included rain that messed with his routine.
"I haven't done anything normal yet," Stratton said, smiling. "Pitching is pitching. Whenever my name is called, I'll be ready."
Copyright CSNBY - CSN BAY