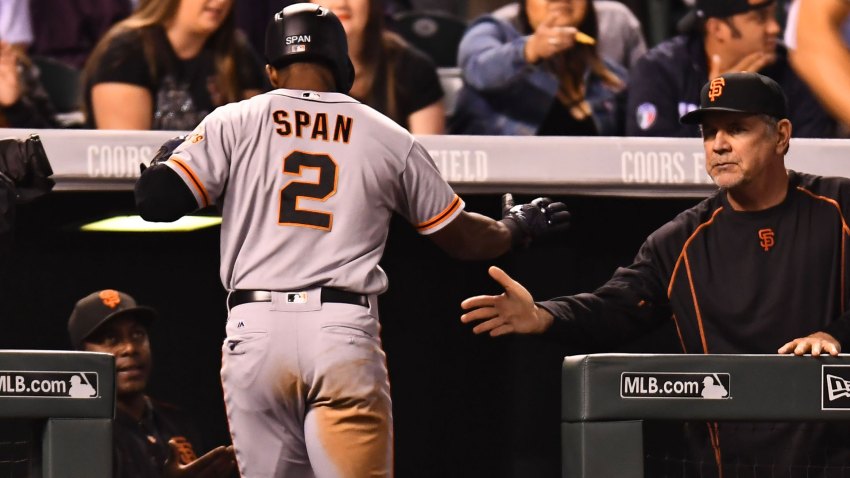 DENVER — Bruce Bochy was out on the field 15 minutes before batting practice on Tuesday, chatting it up with counterpart Bud Black. Perhaps they made some sort of a wager.
Bochy used seven different pitchers in eight innings, with Reyes Moronta and Roberto Gomez making their MLB debuts in the three-pitcher bottom of the seventh. Black countered with nine pitchers, and he also got the win.
The Rockies took the second game of the series 9-6, dropping the Giants into last place in the MLB standings. On the other hand, that means they're in first place in the race for the No. 1 pick. So there's that.
The night proved painful in many ways for the Giants. Buster Posey took a foul tip off the hand in the bottom of the eighth and was removed right away. We'll update that here shortly. For now, here are five things to know …
—- The Giants blew an opportunity to get Tyler Chatwood out of the game even earlier than the fourth. Brandon Crawford and Pablo Sandoval hit into double plays in the first two innings. Posey struck out with two on in the third and Hunter Pence took an awkward wave at a two-out, two-strike pitch with the bases loaded.
—- A day after picking up three hits, Joe Panik had four more. The outburst has raised Panik's average 11 points in two days, but it shouldn't be all that surprising. He has a .327 average on the road this season.
—- Sandoval was hitless in four at-bats. He doesn't have a hit in his last 37 at-bats, tying Johnnie LeMaster's San Francisco-era franchise record.
—- Ty Blach had a rough homecoming. Pitching in front of friends and family, Blach was charged with five earned in 5 1/3 innings. He appeared to run out of steam, and three of those runs came in the sixth. It's been a long season for the young pitcher.
—- Rockies right-hander Carlos Estevez uses "Wild Thing" as his warm-up song. That's an awesome move, when you give it a little thought.
Copyright CSNBY - CSN BAY