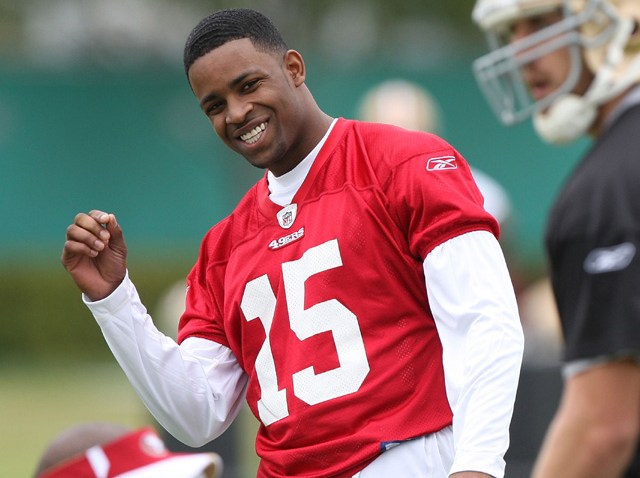 San Francisco 49ers' top draft pick Michael Crabtree is now the only remaining first-round pick holdout, with the Bengals' having signed sixth-pick Andre Smith.
But Crabtree is still a very productive player in terms of NFL merchandise sales. CNBC's Darren Rovell reports that Crabtree's #15 49ers jersey still makes the Top 20 of NFL players' jerseys. Crabtree is the only 49er whose jersey made the list, though Crabtree has not even appeared in one exhibition game.
That means the top-selling 49er jersey this season is that of a player who currently refuses to join the team.
Brett Favre's #4 Vikings jersey is the top-selling individual player jersey thus far for the NFL's fiscal year 2009. Jay Cutler's freshly-minted Chicago Bears jersey is second on the list.
Michael Vick's Eagles jersey comes in as the fourth best-selling jersey. Poor Donovon McNabb, for whom Vick is the backup, is nowhere to be found on the list.
Crabtree's holdout has hurt his jersey sales, however. Rovell reports that Crabtree's jersey had been as high as #8 on the best-seller list, but this month he has dropped to #20 overall. Crabtree and the Jets' Mark Sanchez are the only rookies who made the Top 20.
As a wiseacre commenter on Mighty MJD's Shutdown Corner blog shrewdly noted, "I heard Crabtree's cousin thinks that list is wrong and Crabtree should be listed in the top 5."
Joe Kukura is a freelance writer who still takes a lot of ribbing whenever he wears his Lawrence Phillips 49ers jersey.
Copyright FREEL - NBC Local Media