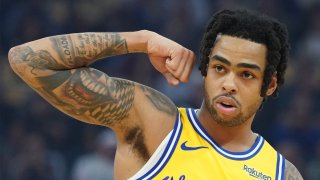 If you were hoping to see D'Angelo Russell in action Wednesday night, you're in luck.
The Warriors guard is probable for Golden State's game in Charlotte, Steve Kerr told reporters after shootaround.
Steve Kerr said D'Angelo Russell is "probable" to play tonight vs the Hornets. Jacob Evans is a "maybe" for Chicago.— Kerith Burke (@KerithBurke) December 4, 2019
Russell has missed the last nine games after spraining his right thumb against the Celtics on Nov. 15.
The 23-year-old is averaging 24.3 points and 6.7 assists per game, while shooting a career-high 45.5 percent from the field.
Russell did not play when Charlotte beat Golden State at Chase Center on Nov. 2.
[RELATED: Klay still owns first big purchase made after joining Dubs]
Draymond Green -- who missed Monday's game in Atlanta and had his Michigan State jersey retired Tuesday night -- will suit up.
D'Angelo Russell is likely to return tonight in Charlotte after a 9-game absence. Draymond Green will return after a 1-game rest. That'll give the Warriors 11 healthy bodies. "I don't know what to do," Kerr joked.— Anthony Slater (@anthonyVslater) December 4, 2019
The Warriors (4-18) finish their five-game road trip Friday in Chicago.
Copyright C