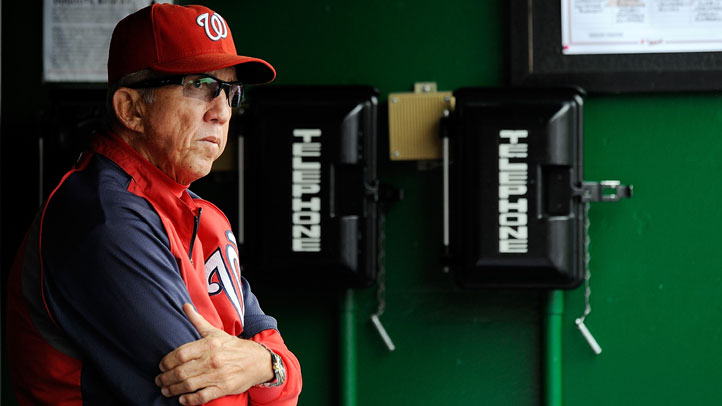 This season's been a bit rough for the Phillies. And not just because of the losing: it's been a pesky swarm of #Natitude in the National League East, creating a rivalry of sorts between Philly and D.C. (Cole Hamels plunking Bryce Harper didn't help.)
That rivalry had calmed down a bit in recent weeks, mainly due to the standings, but Nationals manager Davey Johnson decided to pour some gasoline on the embers Tuesday night.
Johnson was asked about the Phillies on the Nats pregame show on 106.7 the Fan (via the DC Sports Bog's venerable Dan Steinberg) and said that he has "no sympathy" for Philly and that the Phils fire sale was "fun to watch."
"I have no sympathy for 'em," Johnson said. "Shoot, I'm still missing three key players — I'm missing Willy Ramos, Ian Desmond and Jayson Werth. They're not in my lineup. So they've fallen on some hard times over there, and they had a little fire sale today, which was fun for me to watch."
Gah. This is what we would call "poking a sleeping bear" normally, except that's probably too kind a description for the team that's remaining in Philly. Instead, let's just say that this is a classic case of kicking someone while they're down.
And Johnson's willing to keep kicking too.
"No question about it," the manager said when asked about his enjoying beating the Phils. "I'm gonna have a little conversation with Charlie -- he's an old good buddy of mine -- and see how he's weathered it over there. See how he likes looking up instead of looking down."
Ahhhh, nothing quite like calling an old friend who may or may not be worried about his job and laughing at him because he's doing a bad job at his job right now. Hahaha. Oh, old baseball people. You're hilarious.
But seriously, the Nats already beat the Phils once (Nate Schierholtz in the house, you guys!) and these quotes from Johnson should serve plenty inspirational to try and win on Thursday night as well.
And don't think the Phils won't be thinking about those comments in any of the other nine games the play against the Nats, especially during the final three-game series of the season in D.C. Would hate for Davey to need those games to get into the playoffs.