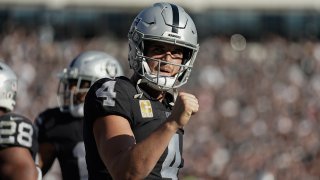 ALAMEDA – The Raiders stink. They're a terrible team after two blowout losses despite being truly amazing just over a fortnight's past, coming off a three-game winning streak that made them NFL darlings and a resurgent playoff contender.
That's the same team we're talking about, coming off dramatically different results that has a once confident fan base pulling its hair out heading into Sunday's vital matchup against the Tennessee Titans.
A win against them at Oakland Coliseum and all is right in the world (again). Lose and it's apocalypse now.
"I'm excited we get a chance to go compete against a really good football team," quarterback Derek Carr said. "That's the beautiful thing about this game. You rewind two weeks ago, we were the greatest story in the NFL and two weeks later we suck again, so I think we'll be alright. (laughter) We are just going to keep grinding. We're going to stick to what we do."
Carr admits they'll have to do it better, especially on offense. The passing game is stuck in neutral, revving its engine without moving an inch.
That's large part receiver issues – Jon Gruden says he's shaking up that position group this week – and some lackluster quarterback play with two pick sixes in the last two games. Can't have that, plain and simple. The Raiders can't afford the penalty issues plaguing them recently. They can't afford the nine-quarter touchdown drought the stretched from the Bengals game through the Jets contest and deep into the Chiefs embarrassment. The Raiders beat the Bengals but have been outscored 74-21 in two losses since.
"We've had a rough two weeks," Carr said. "I've had a rough two weeks. It's time to get back on track, it's time to get back in our stadium, it's time to be efficient on offense, it's time to win. I'm excited we get a chance to go compete against a really good football team."
The Raiders offense must get back on track after hitting a rough patch, but let's not forget this unit posted 24 or more points for six straight weeks. They can get going again by finding old magic. The key, Carr says, is staying on schedule and staying balanced. They have to start strong – they aren't built to overcome large deficits – and avoid major mistakes.
That's how the Raiders did it before. That's how they can do it again.
"Our execution has not been good enough at all," Carr said. "Like executing the plays to every detail hasn't been good enough at all. Turning the ball over myself. I don't do that. I don't want to do that. Never been something I've wanted to do or been a part of my game and so it doesn't matter how it happened or why it happened, it happened, and we have to eliminate the turnovers and that starts with me."
Copyright C