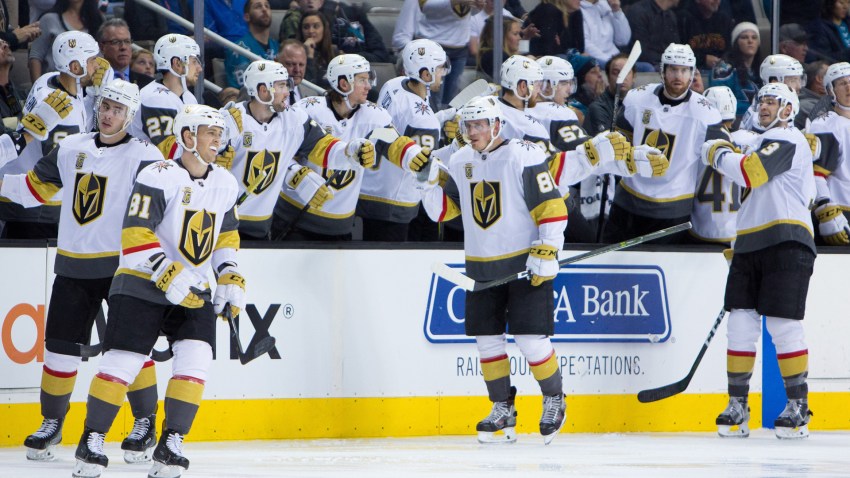 SAN JOSE -- Two trends that have plagued the Sharks for much of the season once again reared their ugly heads and worked in concert during Thursday night's loss to the Golden Knights: A lack of five-on-five finishing, and an inability to limit scoring chances.
San Jose opened its first-ever home game against Pacific Division-leading Vegas as the aggressor. The Sharks outshot the Golden Knights 12-4 in five-on-five situations, and 16-4 at all strengths.
Naturally, San Jose, the league's sixth-worst five-on-five shooting team according to Natural Stat Trick, scored only once. The problem? So did Vegas.
"It's a little more complicated than that, but you play like that in the first period, you should come out up," head coach Peter DeBoer said. "And we didn't, so that hurts."
"Is that the story of the game? No, but it hurts."
Ah, but for those pesky complications. The game changed after the Golden Knights escaped the first period with a tie scoreline.
What Vegas initially lacked in quantity, they certainly made up for in quality. The Golden Knights out-chanced the Sharks 31-28 in five-on-five play, including 25-18 over the game's final 40 minutes.
They ultimately won the overall puck possession battle, too, out-attempting San Jose 40-22 in the second and third period. Immediately, they made the Sharks pay in the second period, scoring just 36 seconds into the middle frame.
San Jose eventually allowed four goals in the final two periods. The three non-empty netters could all be attributed to defensive breakdowns, according to Logan Couture.
"You're up 3-2 with 10 minutes left," Couture said. "You don't need any more goals after."
Yes, for an all-too-brief 101 seconds, the Sharks held a third period lead, thanks to a power play that has been red-hot since December. The power play has bumped San Jose to a respectable 2.83 goals per game, but has masked their poor five-on-five scoring rate (2.08 goals per 60 minutes, 27th in the league).
On Thursday, the Sharks didn't finish, which gave the Golden Knights a chance. The defensive breakdowns over the last 40 minutes, then, gave their newest division rival the edge.
"I think we didn't play our game for 60 minutes," Timo Meier said. "I think at some times we were playing in their zone, we were dominating, but we gotta do it over 60 minutes."
Add it all together, and San Jose has a major missed opportunity on its hands. The Sharks dropped into third in the Pacific Division standings, and they could (briefly) fall out of the playoff picture depending on Friday's results.
If so, Thursday night's turning point would be one in the standings as well.
Copyright CSNBY - CSN BAY