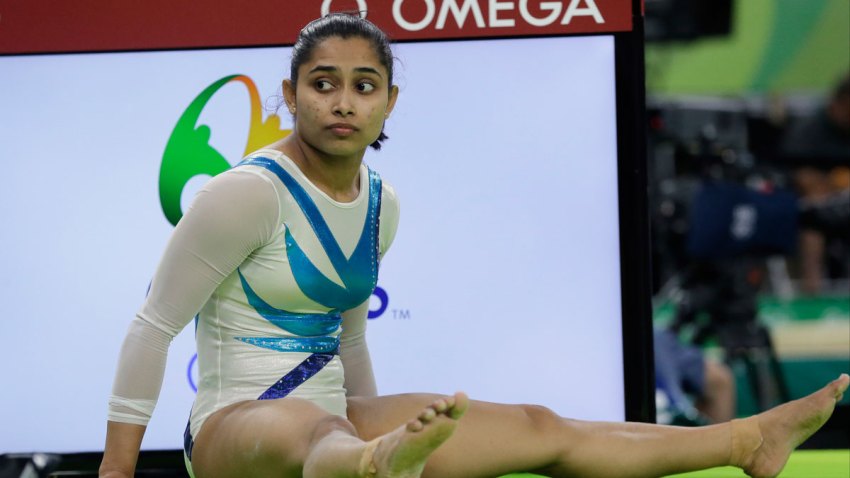 An athlete from India has made history by being the first woman gymnast to compete at the Olympics.
Dipa Karmakar is the only Indian woman to ever qualify for the Games in gymnastics and is also the first Indian gymnast competing at the Olympics in 52 years, according to Olympic.org.
The last time India competed in gymnastics at the Olympics was during the 1964 Tokyo Summer Games — with eight men making the national team.
Karmakar failed to qualify for the uneven bars, balance beam, floor exercise and individual all-around during the preliminaries. Her vault score of 14.850 put her among the top ten in the overall standings for that event on Sunday.
The 22-year-old qualified for the 2016 Rio Olympics after successfully completing the Produnova — one of the hardest vaults that has a difficulty rating of 7.0 — with a score of 15.600 at a test event for Rio.
According to her bio on NBC Olympics, Karmakar was the first Indian woman to win a bronze medal in gymnastics at 2014 Commonwealth Games in Glasgow on the vault. She also took the bronze at the 2015 Asian Championships after executing a double front somersault on the Produnova vault. She was the third woman in history to ever land it.
"After I got the 2014 bronze medal, my life changed," she explained to Olympic.org. "People have made me a celebrity. Wherever I go they ask for a picture and an autograph with me. People treat me like a Bollywood star."
The hashtag #DipaKarmakar began trending on Sunday with well wishes for the gymnast.
Karmakar is one of 124 athletes from India competing in Rio — the largest delegation the country has ever sent in Summer Olympic history.