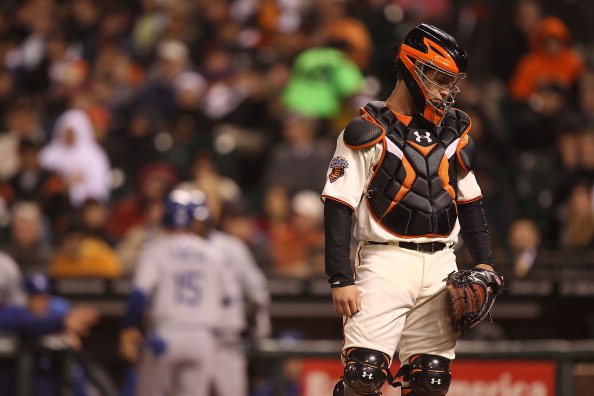 Just how depleted was the Giants bench for Monday's series opener -- a 6-1 loss to L.A. -- against the Dodgers?
Well, even though Madison Bumgarner had just been beat around by the Dodgers' lineup, he still came out to bat in the bottom of the fifth inning, because Bruce Bochy couldn't spare a pinch hitter at that point of the game.
Oh, and in not-so-surprising news, Clayton Kershaw dominated the home team, extending his scoreless streak against the divisional-rival Giants to a ridiculous 23 innings, dating back to 2010.
Kershaw threw 117 pitches -- one short of his career high -- over 6.2 innings, striking out seven and allowing six hits while walking two. Those numbers are studly, but they don't really reveal just how dominant he was -- whenever he got a whiff of trouble, like Brandon Belt batting with two out and runners on the corners in the fourth, he reared back and brought fire. (Like his three-strike K'ing of the Giants' rook.)
Bumgarner, meanwhile, can only feel good about leading the majors in slugging (seriously), as he fell prey again to a big inning that ruined his day. This time, it was the fifth, and it featured not only a Rod Barajas homer to lead things off, but a Kershaw single (though he was picked off), a walk to Rafael Furcal, a Jamey Carroll single and a Matt Kemp single that turned into a bases-clearing triple when Pat Burrell badly misplayed the ball in left field.
Yes, this is the defense rearing its ugly head once again, and yes, Burrell's "fielding" of the ball could go down as one of the uglier attempts in the history of baseball -- he looked like a 12-year-old trying to catch his first grounder at shortstop without a cup on when he went to grab a routine liner in the outfield.
The bullpen was able to limit most of the damage after Bumgarner left, but it didn't matter, because the only offense that the Giants could muster Monday night was a meaningless Burrell homer in the bottom of the ninth.
Awkwardly, that was the only extra-base hit of the game. Which may lead to Bochy deciding that the Miguel Tejada at leadoff thing was a one-time success.
Or it may mean that this team needs to get healthy on offense quickly. Or it could simply mean that Kershaw absolutely owns the Giants, and as long as the team wins with Tim Lincecum on the mound and has a fighting chance in the rubber match, it's all good.
That's what I said in the preview, so I'll stick by that. And Kershaw was good, but that doesn't excuse continually shoddy play on defense or a the defending World Series champs continually failing to find any offense against a division rival.