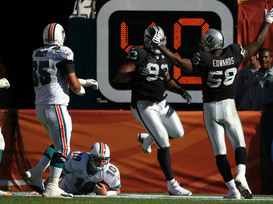 It's not the easiest thing for the Oakland Raiders to prepare for this Sunday's game with the Miami Dolphins. That's because the Dolphins are playing games with their quarterback position.

The Miami Herald reports that the Dolphins are refusing to say whether they will start Chad Henne or Tyler Thigpen at quarterback when the Dolphins play the Raiders Sunday at Oakland Coliseum. Even in practice, the two quarterbacks are splitting reps and don't even know themselves which will get the nod.

"Right now, we're just preparing ourselves as if we're both playing," Thigpen told the Herald.

The Dolphins face a real Sophie's Choice with these two quarterback options. Their first-stringer Chad Pennington suffered a potentially career-ending injury earlier this season, and will surely not play again this year. They are left to pick from Chad Henne and Tyler Thigpen.

Henne managed to get injured within two quarters of taking over the starting job. Thigpen managed to get sacked six times in his only start last Thursday against the Bears.

Dolphins cornerback Channing Crowder gave some insights into how one could determine which quarterback the Dolphins are starting. "$3 or $4 million will do it," Crowder told the Miami Herald. "If you give (coach Tony Sparano) about $3 or $4 million cash -- hundreds, unmarked, nonsequential -- he'll probably tell you."

If that's the case, I'm cool with just waiting til 1:15 p.m. PST Sunday to find out.
Joe Kukura is a freelance writer who might have to wait until after 1:15 p.m. PST Sunday to find out, because this game is blacked-out locally.
Copyright FREEL - NBC Local Media