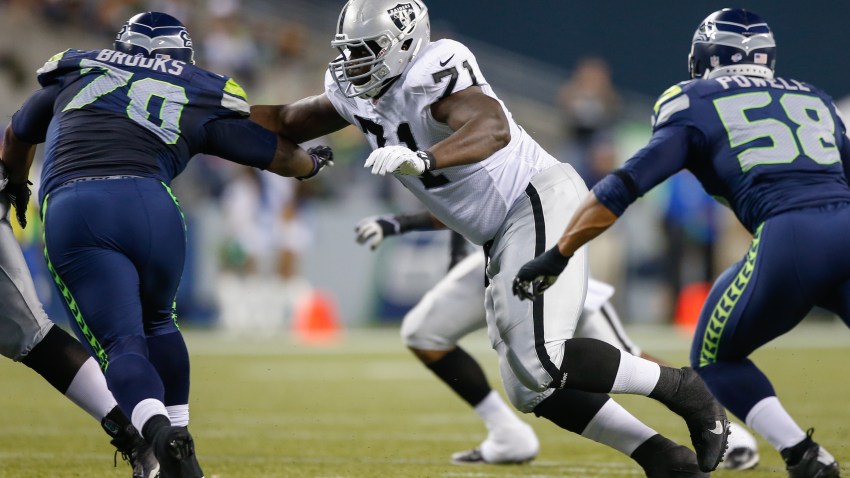 The original plan was for Menelik Watson to play right offensive tackle for the Raiders in 2013.
But with left tackle Jared Veldheer now long gone to the Arizona Cardinals, it appears Watson is now the Next Man Up for the Raiders on the left side.
The Raiders have so far declined to bring in a left tackle to replace Veldheer (although it's possible Rodger Saffold could have played the position if he hadn't failed his physical), and it's also possible the Raiders could snag a left tackle in the draft.
But with GM Reggie McKenzie indicating that he'd like to bring in a playmaker with the No. 5 overall pick in the draft, it seems unlikely that Oakland will use that high-quality chip to bring in a blocker.
Instead, it looks as if it's time for young Mr. Watson to step into Veldheer's shoes and prove his worth. Last year, Watson was a second-round pick (the 42nd player selected) out of Florida State, yet barely played because of injuries.
Now, if Watson can stay healthy, earn the job and play well, McKenzie's 2013 draft class suddenly will look much better.
Though Watson scuffled in 2013, McKenzie still likes his second-round pick.
In March, McKenzie said he was eager for Watson to develop.
"Menelik has to get his body right," McKenzie told reporters. "If we can keep him healthy, I'm looking forward to what he can do next season."
Watson seems to be taking his work seriously this offseason. He recently posted a picture of himself on Twitter working out at Georgia Tech University with this message: "Who said I ain't putting my all in this. What you doing!?"
His performance in 2013 included action in five games, including two starts. But minor knee surgery and a calf problem allowed him little playing time.
There have been some reports that some among the Raiders coaching staff haven't liked what they've seen from Watson. Scott Bair of CSN reported recently that "there is concern" among some that Watson "might not have it."
But when Watson joined the Raiders, he came in as a raw talent with great physical skills – quick feet, big hands, great size. The Brit, however, didn't have a lot of experience, having grown up in England and playing just 19 games in college after completing his eligibility as a college basketball player.
As Raiders offensive line coach Tony Sparano told the media last season, however, the only way the Raiders will know if he can be their next left tackle is to throw him into the fire.
With Austin Howard signed from the Jets to play right tackle and Khalif Barnes re-signed (after showing he could play well at guard in 2013), the opportunity is there for Watson to step up and play a big role in the Raiders' revival.
Recently at the NFL Combine, in fact, McKenzie told Vic Tafur of the San Francisco Chronicle that several players from the 2013 draft group – including Watson, D.J. Hayden, Sio Moore, Mychal Rivera and Stacy McGee – could be vital to the team's performance in 2014.
"Some of those guys have top talent," Allen said.
Now it appears Watson will get the opportunity to prove it.