A Michigan football player who was struck in the jaw by Golden State Warriors' forward Draymond Green described the NBA All-Star's hostile behavior during a high-profile bar fight in East Lansing this week, according to a police report released Wednesday.
"Do you know who I am?" MSU defensive back Jermaine Edmondson Jr. recounted what he remembered Green saying to him on Friday night at a bar named Rick's, where the two first got into a scuffle.
"He then said I pay for n---as like you scholarships," Edmonson said while telling his version of the story to police. The 22-year-old was punched by Green in the jaw the following night at a different bar — this one called Conrad's.
Green, an athlete bound for the 2016 Olympics in Rio de Janeiro, Brazil, was arrested for assault and battery early Sunday morning after Officer Jeff Horn, one of the East Lansing police officers stationed near Conrad's, described hearing "a loud slap sound."
Edmondson said Green "bumped into" him at Rick's on Friday, prompting the victim to ask why the star basketball player thought "that it's okay to bump into somebody without saying excuse me."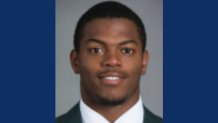 In a letter to Sgt. Chad Price of the East Lansing Police Department, Edmondson said he was also grabbed by the throat by two people who had accompanied Green to the bar. While Rick's employees tried to calm down the situation, Edmondson said he heard his girlfriend, Bianca Williams, "yell." She said she too was choked by one of Green's friends.
"This is wrong on so many levels for someone to think that something like this is okay," Edmondson said to police. "Me and my girlfriend were both choked in front of our peers and we couldn't do anything about it."
On Saturday, Edmondson said he met Green at Conrad's and said, "Last night wasn't cool."
"As he responded to me, he began to poke me on the shoulder and I tell him that he doesn't need to put his hands on me, we can just talk," Edmondson told Price. "As I started to talk again, boom, I'm punched in my jaw."
Horn's report corroborated that Green, who was wearing a white Nike "Attack the Glass" T-shirt," gave Edmondson an "open [handed]" slap on his left cheek.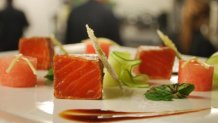 When asked by police if he wanted to press charges against Green, a former Michigan State University basketball player, Edmondson "indicated he did," Horn said.
Edmondson declined medical attention because he was not injured, but was clutching the left side of his face while talking to officers, the police report said.
Horn informed Green that he was going to be arrested on charges, including simple assault and battery, according to the police report.
"It should be noted that while walking Green over to my patrol vehicle, he did say some excited utterances, indicating that he was sorry for slapping the subject and wanted to speak with him to make things right," Horn said in his report.
Green was booked and lodged in East Lansing Police Department jail and was released after posting $200 bail. He had a blood alcohol content of .10, and had to remain in jail until he was completely sober, according to the police report.
As of Wednesday, Edmondson is not backing down. He has reportedly hired a lawyer, who said to TMZ, "My client is a student-athlete who was punched and assaulted by Mr. Green in an unprovoked, unnecessary attack. His life has been forever altered by the events of that weekend."
For his part, Green addressed the situation publicly Tuesday.
"My legal team is handling it," he said Tuesday. "It'll be resolved really quickly. As a public figure, I just can't put myself in certain situations. So it's something that I learn from, and just move on."
Mark Nagel, a sports management professor at St. Mary's College, believes, however, that the accusations against Green could have repurcussions well beyond the courtroom.
"I don't think the [NBA] is going to be able to ignore this," Nagel surmised, adding that Green might be looking at a "game suspension" or "some sort of fine."
NBC Bay Area's Elyce Kirchner and Lisa Fernandez contributed to this report.