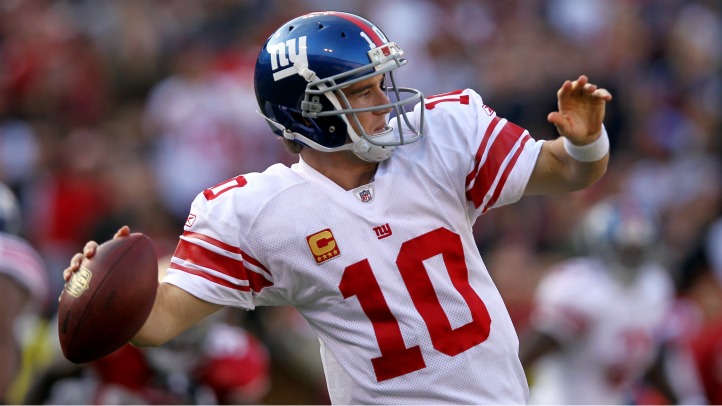 Eli Manning's season started with a debate about whether or not he was an elite quarterback and it might end with another debate.
It won't be about his elite status as any remaining holdouts have long ago given up that fight. The debate this time will be about whether or not he's the best quarterback in the Manning family.
If he wins today against the 49ers, Eli will have a serious dog in the hunt. It's not just because Peyton's career is in doubt after three neck surgeries and the complete upheaval of the Colts organization in the last couple of weeks.
Throughout the history of the NFL, quarterbacks have always been graded on two parallel tracks. One is individual performance, and there haven't been many quarterbacks who have scored higher in this department than Peyton Manning.
He's thrown for the third most yards and touchdowns in history and ranks high in every metric you would ever use to gauge the ability of a quarterback. Eli may never match his brother's statistics.
But Peyton may never be able to match his little brother's status on the other grading scale of quarterbacks. That's winning championships, of course, and Eli already has one under his belt with a chance for a second this year.
If Eli wins it all this year, that would give him one more ring than his big brother, but there's even more to Eli's superiority in this category.

This playoff run has marked the second time in Eli's career that he has led a team on a run that massively outperformed expectations thanks in large part to his ability to step up his game in the biggest spots.
Peyton doesn't have the same polish to his resume. If anything, he's saved his worst moments for games against the Patriots, Saints and seven losses in his team's first playoff games.
Obviously getting to those points as often as the Colts speaks well of Peyton's ability to win games, but there aren't many people who wouldn't expect a bit more postseason success given how many regular season games the Colts have won in the Peyton Era.

Winning Sunday, at a moment when Eli is coming into his prime, would make it hard to argue that the younger Manning wasn't the bigger postseason winner in the family.
All of this is up for debate, of course, and there's no real way to answer a subjective question about who is the best quarterback of all time. The fact that you can make an argument for Eli over Peyton in any format says a lot about how far the Giants quarterback has come this season.
It's not just that he threw for nearly 5,000 yards, cut down his interceptions and continued to be a top performer in the fourth quarter. The way that Manning plays adds to your appreciation of his abilities.
He makes some incredibly dangerous throws, perhaps more of them than any other good quarterback, and completes a remarkably high percentage given how high the margin for error on those passes can be. And the fact that he makes a lot of them in the face of strong pressure because his offensive line isn't all that good speaks to his level of confidence in his own abilities.
Even if you think it is premature to put Eli into conversation with his own brother, it's hard to resist bumping him up with a win on Sunday.

If you count Peyton, there are only three current quarterbacks who have taken their teams to multiple Super Bowls.
Becoming the fourth would solidify Eli's standing in the first tier of the current NFL and might just push him past some guys with gaudier stats but less success when the games matter most.
Copyright FREEL - NBC Local Media