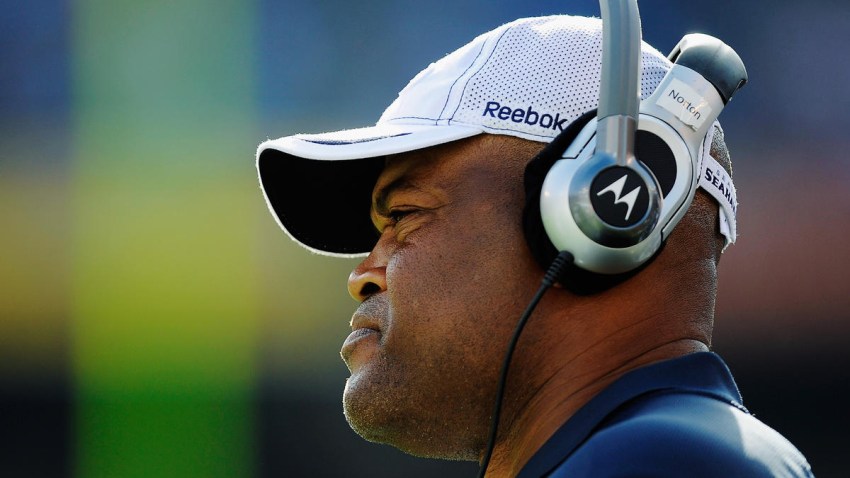 New Raiders defensive coordinator Ken Norton Jr. stepped in front of the media after the first day of the team's full-squad, three-day minicamp Tuesday, and acknowledged he's bringing a vocal, aggressive and loud style to the job.
He's hoping it rubs off on his players.
"You give them everything you have," he told the Bay Area media. "And a lot of times the players, they have a tendency to become like their coach. I wouldn't mind guys having a lot of energy, feisty, smart, enthusiastic, really care about what they're doing, giving everything they have."
In his short time with the team since being hired by new head coach Jack Del Rio, Norton says he's excited by what he sees from his unit and believes the Raiders can be a much better defensive team than they were in 2014, when they allowed a league-high 28.3 points per game.
"Fast, mean, tough," is how Norton described his unit to Vic Tafur of the San Francisco Chronicle. "We know what we have. We have a good group. We have good veterans, good young players and good middle players, and I think they are hungry. … Competition is everywhere for this defense, and it's really an exciting time for this group."
Oakland was last in the NFL in sacks in 2014, but the Raiders will be a different unit in 2015. Linebacker Khalil Mack and safety Charles Woodson are the anchors, but the team has added veterans such as middle linebacker Curtis Lofton, outside linebacker Malcolm Smith, safety Nate Allen and defensive tackle Dan Williams. Second-round pick Mario Edwards, Jr., could also start at defensive end.
Marc Sessler of NFL.com noted that Norton's enthusiastic comments are, of course, expected. But with Norton's acumen and energy and Mack's ability, Oakland has a chance to be much better this season.
"We do believe in Mack as one of the NFL's most promising young defenders," Sessler wrote. "If the players around him grow accordingly, the Raiders are bound to improve come September. Realistically, they can't get any worse."