When Kevin Durant hit the ground clutching his lower right leg during the second quarter Monday night, those watching NBA Finals Game 5 held their breath. It later was revealed to be an Achilles injury, although exact details remain unknown.
While Durant was being escorted off the Scotiabank Arena court and into the Warriors' locker room, it appeared some Toronto Raptors fans began to cheer in celebration -- an act DeMarcus Cousins called trashy. It was a bad reflection on a fan base that, until then, hadn't been known for being negative at all.
However, one anonymous fan wanted to make sure the cheering didn't leave a bad impression of Canada as a whole, and sent this floral display to the Warriors' offices to apologize "on behalf of Canada." The arrangement also had a ribbon that read "Canada is sorry KD" placed across it.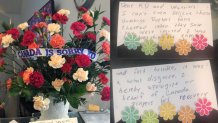 (photo via Warriors Offices)
That's not only classy, but this individual took responsibility for an entire fan base, and made sure Durant and others didn't think low of them. You can't help but smile about the gesture.
Copyright CSNBY - CSN BAY