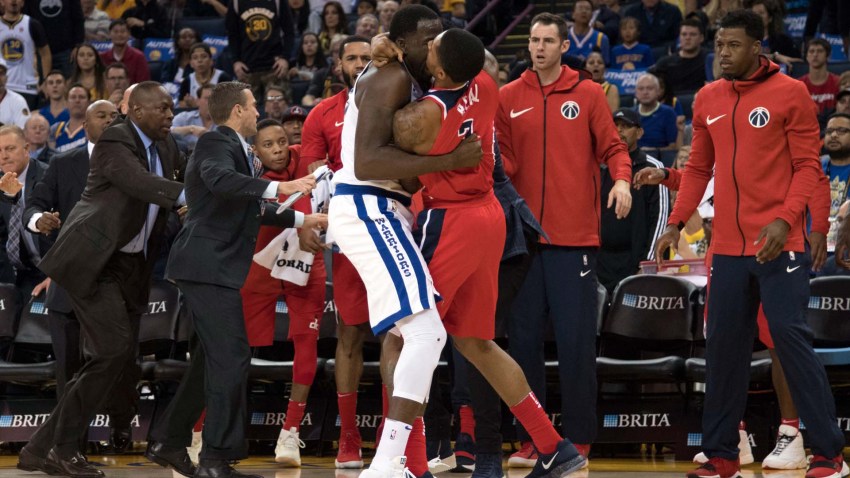 OAKLAND -- Warriors forward Draymond Green and Wizards guard Bradley Beal were assessed double technical fouls for fighting and ejected with late in the first half of a 120-117 Warriors victory Friday night at Oracle Arena.
The beef actually began with 23 seconds remaining in the half after the 6-foot-7 Green blocked Beal's shot and had a few choice words for the 6-foot-5 guard.
Play continued, with Washington forward Kelly Oubre missing a 3-point shot, after which Beal, being blocked out by Green, took an open-handed swing that caught Green on the neck and side of his face.
Green at that point spun and used both hands to grabbed Beal, the two locking arms above each other's shoulders, with Green walking Beal backward until both fell, with Green landing on top.
"I don't know what I'm supposed to do if someone hits you twice," Green told ESPN before leaving the locker room at halftime. "Man, you're taught as a kid not to allow that. What was I supposed to do?"
With players from both teams rushing in, it took about 30 seconds for the officiating crew to separate the combatants. Green's jersey was badly torn.
After a brief review and discussion among officials, both players were ejected with 19.5 seconds remaining and the Warriors trailing 64-50. No other players were ejected, but that could change once the NBA office reviews the matter.
"Draymond defended himself and bit the bullet in terms of being ejected from the game," David West said.
Green implied that his ejection was as much the product of his reputation as it was for being part of the skirmish.
"There's history with me and the NBA," he told ESPN. "That's the only reason I can think of why I was ejected."
On his way to the visitor's locker room, Beal briefly engaged a particularly vocal fan before disappearing into the bowels of the arena
"I'm not going to get into details about it," Beal said, referring to his tiff with Green. "I'll do that with the league (on Saturday), but we just got into it and things got out of hand."
Copyright CSNBY - CSN BAY