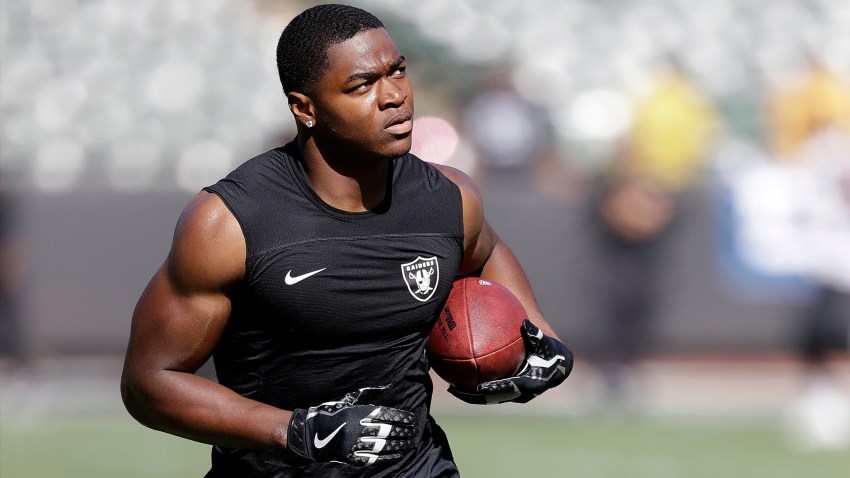 ALAMEDA – Amari Cooper has missed two full games and most of two others this past month.
Denver safety Darian Stewart set this course with a vicious, though not altogether dirty hit that concussed Cooper on Nov. 26 and sprained his ankle. The ankle was an afterthought then, but it remains the cause of his prolonged absence.
He missed the following game against the New York Giants, but pushed to play a crucial AFC West showdown at Kansas City.
Cooper's ankle got rolled while blocking for the run against the Chiefs, and he ended up back on the shelf for a Sunday night loss to Dallas.
The Raiders hope Cooper can return for next week's road game at Philadelphia. He worked on the side with trainers during Thursday's practice, and will try and play the Eagles on Christmas.
"We hope to get him back to practice and have a good week of practice," head coach Jack Del Rio said, "and be ready to go Monday night."
That would immensely benefit the Raiders offense. This hasn't been a season to remember for the two-time Pro Bowler, but the Raiders have missed him in the pattern.
His athleticism, route running and big-play ability demands significant attention.
"You're covered differently when Coop isn't demanding roll to him or attention that he normally gets," Del Rio said. "Not having Coop, you feel the difference because he's such a dynamic, explosive playmaker for us."
Cooper's career started with consecutive 1,000-yard seasons. He has struggled some this year, with just 42 catches for 499 yards and five touchdowns. Roughly 40 percent of that yardage total game in one game. The Chiefs let him roam, over 11 catches for 210 yards and two touchdowns, where he was his typical, explosive self. Something's been missing outside that. He has 10 drops on the year, exposing a major issue as a rookie that got cleaned up his second year.
Despite a less-than-stellar season, his absence has created a void that impacts the entire passing game. Michael Crabtree gets covered like a top wideout, and tight end Jared Cook sees double coverage slide inside.
"When people cover Coop, they bracket him, they try and match him, they try and in-and-out him, they try a whole bunch of different things," Raiders quarterback Derek Carr said. "When that doesn't happen, the attention goes to Crabtree, the attention goes to Jared depending on the defensive personnel that they have. They're able to roll coverages and make it hard for us. It's one of those things that is next man up. We have to play ball.
"That's why sometimes if we're not as efficient or things like that, we're trying to do the same kinds of things and make plays, it just hasn't worked out that way. One of those years where we haven't been as efficient. It's not an effort thing. It's not guys not giving it their all and things like that, it's just that we haven't been effective."
Copyright CSNBY - CSN BAY