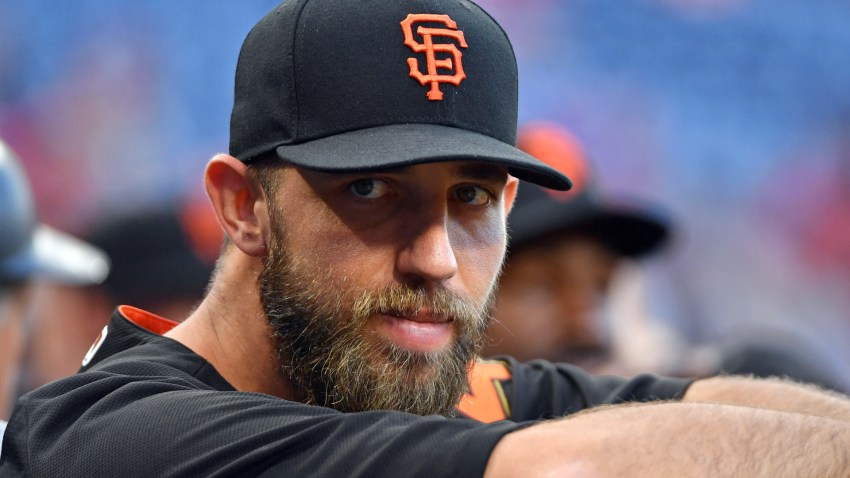 SAN FRANCISCO -- The Giants will face a couple of aces next week in Houston when Justin Verlander and Gerrit Cole take the mound for the Astros. By the end of the week, their own ace should take a big step.
Madison Bumgarner will throw to Giants hitters on Tuesday and is likely to make his first rehab start the following Saturday, May 26, for the Triple-A Sacramento River Cats. That should get Bumgarner back in the big league rotation sometime around the second week of June, and he won't be alone in rehabbing with the River Cats.
Mark Melancon faced hitters Thursday afternoon and it went so well that he's likely to make his first rehab appearance on Sunday or Monday. Melancon will spend about two weeks in Triple-A, with the goal of making five appearances. Manager Bruce Bochy said they would like Melancon to pitch on back-to-back days at some point down there. He did that just once this spring, and the next day was shut down.
Elsewhere in the infirmary, Mac Williamson (concussion) is doing well and is close to a rehab assignment. Joe Panik (thumb) has started to take soft-toss swings in the cage. Bumgarner, by the way, has been swinging in the cage for a while. He'll be ready to hit when he returns.
--- Hunter Pence is currently on a rehab appearance, but this is about more than just getting healthy. Pence went down to Los Angeles to see Doug Latta, the specialist who overhauled Williamson's swing, and he has taken a similar approach. He is hoping the swing, made popular by Justin Turner, will help him find results when he returns.
"There are times in your career when it's important that you make some tweaks and change," Bochy said. "Hunter felt that, and I agree. The fact that this is something that he really wanted is going to make it easier to work out for him."
There's no understating how difficult this is. Pence, 35, has had the same unique swing his whole career, and he's trying to change on the fly. The Giants like the early results, but who knows what will happen once he faces a big league breaking ball. Pence tried to make a swing change during spring training and quickly went back to his roots.
If the results are encouraging, it's possible that the Giants and Pence could choose to option him to Triple-A so he can continue to work on the changes once his rehab time is over. But Bochy said that hasn't been brought up yet. Pence would have to agree to any such move.
Copyright CSNBY - CSN BAY